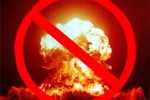 Cuba ratified on Tuesday the importance of nuclear disarmament to the international community. Speaking at the Conference on Disarmament, the Cuban delegate Yusnier Romero, said that this issue should be a priority in the work of that forum.At present, most States do not have nuclear weapons and countries like mine are proud of not having them, said Romero. However, what assurances have we that nuclear-weapon States not to use it against our people, asked he.
Romero expressed concern about the movement of nuclear submarines and noted that there are several examples in the last month, which called to reflect on the legality of the use of these kind of weapons.
This issue was identified as a priority by the Non-Aligned Movement at the 16th Ministerial Conference in Bali in May 2011, recalled Romero.
The newly formed Community of Latin American and Caribbean Countries also adopted in December 2011 a special statement on the total elimination of nuclear weapons.
Romero said article six of the Nuclear Nonproliferation Treaty provides that each party undertakes to pursue negotiations in good faith on effective measures relating to cessation of the nuclear arms race, nuclear disarmament and a treaty of general and complete disarmament.
Romero expressed concern at the fact that several states seek alternative forms of negotiation, in the absence of progress within the Conference. The Cuban delegate added that "Cuba will not add to the breakdown of multilateralism which involves the selective negotiation of certain issues."  (Taken from PL).