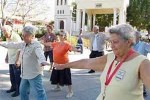 Cubans of all ages and sectors of the national life stated today that the Human Rights Day is a day to celebrate in the Caribbean island for their social achievements and opportunities for citizen participation.
According information from the National Electoral Commission, about 14,537 delegates to the municipal assemblies emerged from a nomination in 51,000 neighborhood meetings conducted in September.
The United Nations adopted on December 10, 1948 in Paris the Universal Declaration of Human Rights, a text that includes in 30 articles the civil, political, economic and cultural rights of people regardless of race, color, sex, religion or other considerations.
Cuba comes to this date with indicators placed in the path of meeting of the Millennium Development Goals, set by the United Nations for 2015 in the interests of human development.
Health, education, employment, food and environmental protection is a priority government, a policy reflected in the multimillion amount to be allocated to these sectors in annual budgets.
Regarding health care, the Caribbean country has an infant mortality rate below five per 1,000 live births, life expectancy close to 80 years, and a vaccination program covering 13 diseases with coverage of virtually all children, first Deputy Health Minister Jose Angel Portal told Granma newspaper.
Portal highlighted the existence in Cuban territory of more than 12,700 facilities dedicated to free, preventive medicine, and those involved in science.
The network has 152 hospitals, 452 polyclinics, 11,492 doctor's offices, 126 dental clinics, and 142 maternity homes, among others, he said.
Regarding education, it highlights the massive incorporation to classrooms and a low dropping out of school, as of data from the National Bureau of Statistics and Information that stated a dropout in elementary and junior high education of 98.7 percent and 97.9 percent, respectively, in the 2010-2011 academic course.
The Human Rights Day is celebrated today with cultural and sports activities in parks and public spaces, where games and musical bind different generations.
The Washington siege is the main obstacle to the development and causes an invaluable human damage, Foreign Minister Bruno Rodriguez said when presenting Cuba's report on Resolution 66/6 of the U.N. General Assembly on the need to end the blockade.