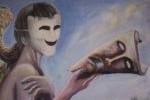 The variety of artistic performances from six provinces distinguishes the 15th National Amateur Theater Festival Olga Alonso, officially opened in Fomento, Sancti Spiritus, with a cultural gala in the Silvino Aguila Cinema .
In addition to Sancti Spiritus representatives, the 15th version of  the National Festival Olga Alonso is attended by projects from Cienfuegos, Villa Clara, Guantanamo, Ciego de Avila and Camagüey.
In the debut Cienfuegos Teatro del Sol y la Luna (Moon and Sun Theater) came to stage with the play Cecilia, giving then way to a project featuring art instructors of the host municipality.
This edition is attended by some groups such as Sobre el Camino (On the road), from Villa Clara, Oxis, from Guantanamo, the Estrella Roja Circus (Red Star Circus) , from Ciego de Avila, and La Andariega (The Rambler), Camagüey, the latter widely renowned in Cuba.
In the new fete of the amateur theater, scheduled to be ended on Sunday, Sancti Spiritus projects are Agon Theatre, Transitions, Farsa Theatre, Tehomay and Travesia Magica.