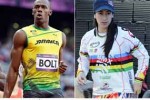 Colombian cyclist Mariana Pajón and Jamaican sprinter Usain Bolt easily lead the Prensa Latina survey today to choose the best American athletes of 2012.
In the last election, Pajón was preferred by Peruvian media, Latin America TV Frecuency, Todo Sport, Libero newspaper, Canal N, Radio Liberty, Radio Ovation and and Radio Union.
Also the outstanding athlete from Medellin was supported by newspapers Metro Brasilia (Brazil) The Informers (Venezuela) and The Observer (Paraguay).
Shelly-Ann was favored by the Panorama newspaper (Venezuela) and the Angolan news agency ANGOP, out of the top five athletes. Behind both athletes is the Cuban judoka Idalys Ortiz (27), included in the list of The Venezuelan Informer.
In the men's category, Usain Bolt, triple prize winner at the London 2012 Olympics (100, 200 and 4 x 100 relay), carries an impressive pace and is at the threshold of what could be his third nomination – he won Survey years 2008 and 2009 – exhibiting a nearly unrivaled 90 ballots.
Meanwhile, on the count of five top athletes, the Argentine footballer Lionel Messi, from Barcelona's Spanish team, winner of the poll in 2011, added 12 votes to reach 74, and will have until Thursday to reach the possibility of approaching the Jamaican sprinter.
The player Miguel Cabrera, who won the triple crown of the American Baseball Major League and the MVP of the American League, reached 36 votes after receiving a boost from Peruvian Radio Ovation, the daily news Ultimas Noticias ( Venezuela), The Informers, Panorama and the Nation.
Feedback can be sent to the email address deportes@prensa-latina.cu. Esta dirección de correo electrónico está protegida contra los robots de spam, necesita tener Javascript activado para poder verla
Among its most illustrious winners are Cuban sprinter Enrique Figuerola, the first winner, Argentinians Diego Armando Maradona (1986) and Lionel Messi (2011), the Cuban high jumper Javier Sotomayor (1988, 1989, 1992, 1993, 1994) The Formula One Brazilian driver Ayrton Senna (1990, 1991) and the Cuban boxer Teofilo Stevenson (1972).