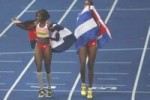 Cuban triple jumpers Mabel Gay and Yargeris Savigne classified during the final day at the World Indoor Track which is based this city.
In the test, which required a minimum of 14.30 meters to enter the discussion of medals, Gay got a jump of 14.22 meters on his second attempt, which was placed as the third qualifying Group A.
Meanwhile, the mult-medalist Yargeris Savigne was far below its potential and with a poor 14.09 meters on his third attempt reached the last room for the discussion of medals in group B.
In this same section also got a ticket Jamaican Kimberly Williams, who beat the 14.15, meters on his second jump.
Collated medal for discussion:
Group A:
-1. Yamile Aldama (GBR) 14.62.
-2. Olga Rypakova (KAZ) 14.39.
-3. Mabel Gay (CUB) 14.22.
-4. Dana Veldakova (SVK) 14.21.
group B
-1. Anna Krylova (RUS) 14.27.
-2. Yanmei Li (CHN) 14.23.
-3. Kimberly Williams (JAM) 14.15.
-4. Yargeris Savigne (CUB) 14.09.
(Taken from PL)