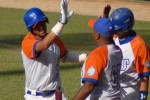 With a knockout victory (11×1), Sancti Spiritus has Matanzas up against the walls and achieved the third victory in the seven-game playoff of the West zone in the 51st Cuban baseball national season.
A productive offensive, including homers by Yuliesky Gourriel and Yenier Bello, combined with another excellent performance of Ismel Jimenez, gave victory to Roosters over Crocodiles in the Jose Antonio Huelga Stadium, in central Cuba.
Sancti Spiritus best batters were third-baseman Yuliesky Gourriel (Hr, double, 3RB1, 2R), catcher Yenier Bello (single, Hr, 2R) and first-baseman Yunier Mendoza (3 singles, 2R).
Matanzas, leader of the 96-game qualifying stage in the West with a 58-38 record and the most sensational team of the 51st Cuban baseball national season, is obliged to win the remaining three confrontations vs. Sancti Spiritus if they expect to move forwards.
For the 5th game of the subseries the duel Angel Peña, for Roosters, and Jorge Alberto Martinez, for Crocodiles, is to be repeated.
[nggallery id=20]
(photos: OAS)