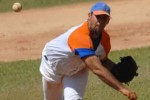 Ismel Jimenez was key in his team's victory vs. Granma, the most powerful team in Cuban baseball. Roosters' hurler managed to reduce their offensive to two hits while striking out 10 men. This was Ismel's 17 win, leader in the tournament.
"I don't know yet how to overcome a defeat", says Sancti Spiritus iron-armed hurler Ismel Jimenez, who equalled the province's record of most wins in a single season set by Cuban and provincial star Jose Antonio Huelga.
Magnificent on the box, his courage outstrips his 25 years old and 8 national seasons. Ismel Jimenez Santiago has entered not only Sancti Spiritus baseball history, but Cuba's also.
Recently Ismel went past the 1000 innings pitched in career. This week he got his 16th win in the 51st Cuban baseball national season, holding on to the championship's leadership and equalling the local record set by renowned Jose Antonio Huelga (7th season with Azucareros) of most wins in a single period.
It would seem a "piece of cake", but Sancti Spiritus' ace had pitched with perseverance and effectiveness, with nerve, decisiveness and wisdom. Ismel is Roosters' iron-armed man, with about the 35% of their total victories.
"I did not think to get here that soon. I set myself some goals. I wanted 15 wins. I did not think of equalling superstar Huelga; some other good pitchers could not count on this team, which definitely had helped me a lot".
"I work really hard. From conversations with excellent hurlers I know they have made it because they tried very hard. I take care of my arm; put some ice on it and I exercise to strengthen my body".
His coaches praise his interest, his eternal nonconformity, his determination, the constant study of the rival. As rule Ismel pitches every five days. He is used to end his games and "take blame" on his faults.
"I like that rotation; if I do it otherwise I lose control of my pitches, though I tend to throw harder, but control is definitely most important for me. I like getting to the 120 pitches established, start and finish the game. I love having the house full and getting to master the situation. We have pretty good setters and closers, but I trust mostly me, I prefer to be my own reliever, run the risk, being the one beaten".
Any Caprices?
"There are some moments in which I get capricious. I love challenging the adversary. My trainers advice me to do so".
Is that why you prefer to have the last saying?
I like to have the last call. If I'm somehow lost I like someone else to warn me, but I rather take the game myself.
How do you manage to focus?
I've got on the box with lots of family worries but I've managed to put them aside and then when the game is finished I retake them. Sometimes my head hurts a lot from thinking in all details of the game I recently win or lose.
Locals always bet on you. How do you take on that responsibility?
Many fans ask me when I'm due to pitch to know when the team is going to win. I like that. When I get on the box I try to encourage the rest. You cannot always win, when I lose, I double-train. You can bet I give my all in every outing.
Iron hurler, are not you worried about your arm's health?
I talk a lot with hurlers from different epochs, and even if you can't compare times, men like my current coach Caña Ramos pitched every 3 or 4 days and they last, so, how come I'm not going to. The secret lies in the training, controlling your body.
Some exclusion like that from the last Cuban preselection, they marked you…
Men are valued for all those times they rise when having fallen. That exclusion has only made me to work harder. I like to be challenged, that way I'm more active.
You can set an absolute record…
I'm not going to look for it. I want to help my team in playoffs. I don't like to end a season without winning a game in that phase because it makes me feel I did not have it all. My immediate dream is to get to 100 wins in nine series, but that's all talk, it's yet to be proven.