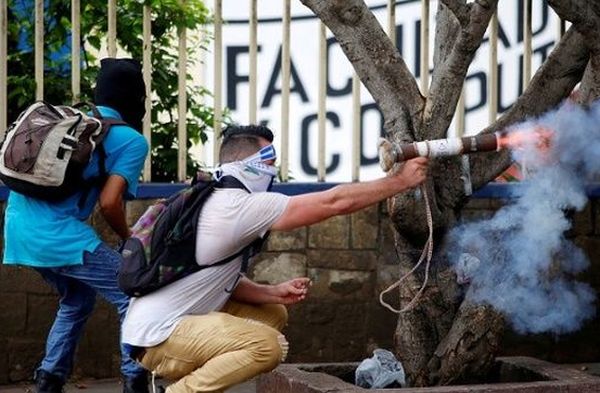 On Wednesday, at least five people were reported dead, about thirty injured, and attacks on public institutions and a radio station
Violence persists today in Nicaragua despite the call for peace and the government willingness to keep the national talks that return stability to the country, plagued by vandalic right-wing groups that seek to sow terror.
At least five dead, about thirty injured, public institutions and a radio station attacked and burned was the balance of a bloody day yesterday, which was extended until the early hours of this Thursday, local time.
In this way, Mother's Day in this Central American nation – which is celebrated every May 30 – became bloodied, deepening the pain of families after more than 40 days of violence and hatred promoted by the extreme right, according to denunciations.
Nicaragua belongs to all of us and we will all remain here, said on Wednesday the President of the Republic, Daniel Ortega, during a massive ceremony attended by thousands of citizens to support his government and defend the Sandinista revolution.
Concentrated in the Bolivar to Chávez Avenue in this capital, Ortega assured that Nicaragua is not anyone's private property.
Also, the president stressed that all Nicaraguans are the veins of the country, regardless of the political, religious and ideological thinking they profess. 'God gave this land to all Nicaraguans,' he added.
The head of state lamented the pain that the nation is experiencing, following the wave of violence unleashed on April 18, when protests against a government reform to social insurance, already repealed, led to clashes and vandalism, with a balance of more than 80 dead.
'Our greatest commitment, our obligation is to fight and defend the peace we have to recover. The challenge is to make the path to peace, 'emphasized Ortega, during the ceremony, which paid homage to the mothers.
However, at another point in the city there was a massively attended march, of the so-called 'autoconvocados' and the so-called Mothers of April movement, both opposed to the government.
The main objective of these groups is to provoke the overthrow of the government of reconciliation and national unity, for which it is supported by an intense media campaign aimed at delegitimizing the Executive through manipulation and lies, according to denunciations.
In the opinion of observers, this criminal act delegitimizes the demonstrations and protests of opposition sectors, whose right to protest, as long as it is peaceful, is recognized by the government.