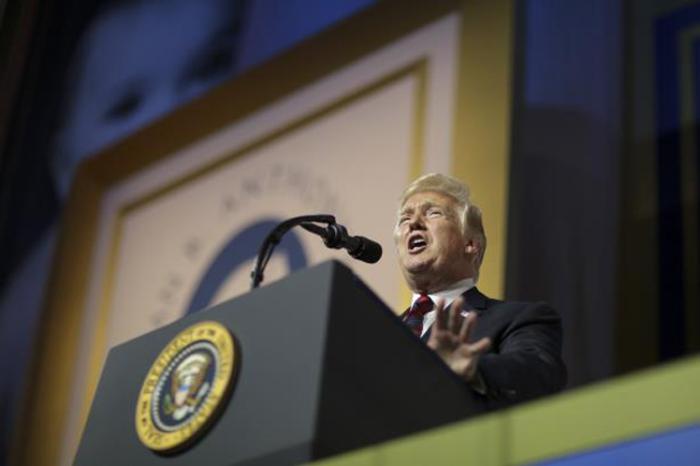 More than half of Americans believe that race relations have worsened in the country since President Donald Trump took office on January 20, 2017, a poll indicated today
A new POLITICO/Morning Consult poll showed that 55 percent of voters say race relations have worsened under Trump, compared with 16 percent who say they have gotten better. Another 18 percent say race relations have stayed about the same since Trump became president last year.
Just over half of the white voters, 51 percent, say that race relations deteriorated after the Republican's arrival in the White House, and that number rises to 79 percent among African American voters and 60 percent among Hispanics.
As for the party lines, 82 percent of those identified as Democrats argue that racial ties have had a setback with Trump, compared to only four percent who see an improvement and nine percent who say they are about the same.
The numbers are shared differently among Republicans, as more people think that race relations have improved with Trump (35 percent), than those who say they have worsened (25 percent) or remain the same (29 percent).
According to Politico, the survey was conducted among 1,994 registered voters from August 2 to 6, a few days before the first anniversary of the unrest on August 12, 2017, in Charlottesville, Virginia.
In that city, where extreme right-wing groups and white supremacists organized protests against the removal of a statue of Confederate War General Robert E. Lee, violence erupted between protesters and counterprotesters, forcing them to declare a state of emergency.
As a result of these events, 32-year-old Heather Heyer died when a 21-year-old neo-Nazi sympathizer attacked a group of people who opposed the racists.
Trump's reaction to those events provoked criticism from members of both parties, as the president said that the violence was the fault of both sides, adding that 'there were bad people on one side and also very violent on the other,' and that there were very good people on both sides.
Even the leading Republicans in Congress seemed to distance themselves from the head of the White House, as happened with the majority leader in the Senate, Mitch McConnell, who said: 'There are no good neo-Nazis, those who support his vision are not followers of the American ideals and freedoms.'