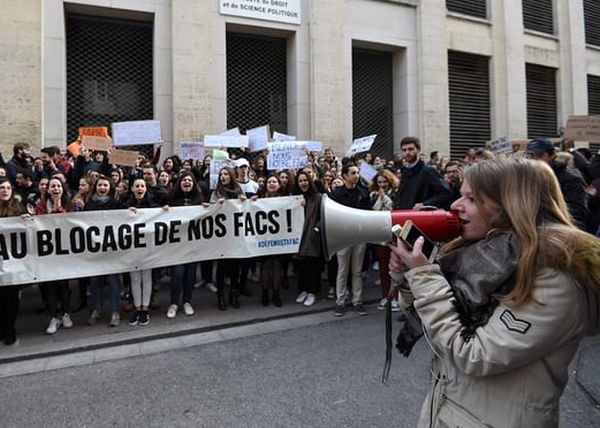 Students are protesting the reform of access to higher education promoted by the government of Emmanuel Macron
Tensions are increasing in several universities in France amid students' protests against the reform of access to higher education promoted by the government of Emmanuel Macron.
The mobilization became bigger when arriving at the Institute of Political Studies of Paris (Science Po) and its headquarters in other cities such as Rennes, a symbolic event as it is one of the most prestigious and elitist university centers in the country.
A group of students keeps totally or partially blocked three buildings of the capital's headquarters of Sciente Po, with messages like 'For the end of the macronist dictatorship'.
Another slogan is 'Macron your university is blocked', as the president and several of the country's leading politicians are graduates of Science Po.
The mobilization in this institute is part of a number of blockades registered since March in universities in this capital and cities such as Montpellier, Rennes, Bordeaux and Toulouse.
The objective is to reject the reform promoted by the government, which would put an end to the lottery systems to enter higher education and introduce a selective process based on a comprehensive evaluation carried out by the university staff.
According to the detractors, this will generate a favoritism for young people from the more affluent classes, while those from more popular sectors will be excluded and discriminated against.
Since Science Po (which is not involved in the reform because it is a post-graduate institute), the students denounce that 'we already see the consequences of this selection,' explained one of the strikers, quoted by the local press.
More than a thousand students voted today to keep the institution blocked until at least May 2, an exceptional situation that immediately triggered the alerts.