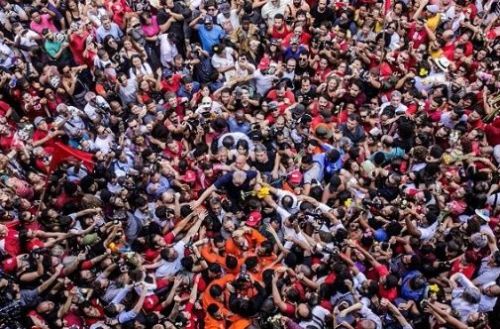 The former president said his ideas and dreams will not end because "there are thousands of Lulas"
The UN Human Rights Council is looking on Saturday into a precautionary measure presented by defense lawyers to prevent the arrest of former Brazilian president Luiz Inacio Lula da Silva to prevent his imprisonment till the end of the judicial process.
The petition includes a request to the Brazilian government to stop the jailing of Lula as long as other judicial resources are complete, a statement by defense attorneys Cristiano Zanin Martins, Valeska Teixera Zanin y Geoffrey Robertson reads.
The lawyers uphold that the decision to jail Lula for 12 years ordered by judge Sergio Moro is arbitrary.
They demand that an independent court looks into the presumption of innocence of the former president was violated while arguing there is a political persecution to prevent Lula to run for president in Brazil's forthcoming elections, next October.
The attorneys are also demanding that allegations on judge Moro's tendentiously biased actions against the former president be taken into consideration in any investigation.
Since Moro issued a detention order against Lula, protests have not ceased in several Brazilian cities in condemnation of what people believe is a political and judicial persecution to keep the Workers Party leader from running as presidential candidate.
All polls show Lula has a commanding lead to be Brazil's next president.
The Federal Police was reportedly said to try this Saturday to arrest Lula who is at the headquarters of the Steel Workers Union in San Bernardo del Camp, Sao Paulo, where he is today attending a mass in memory of his late wife.