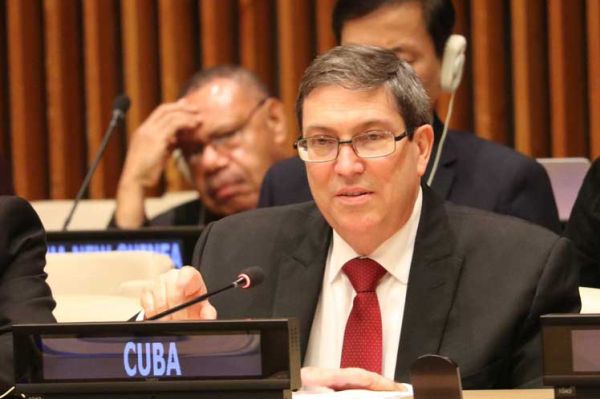 This year the discussion of the resolution project to put an end to U.S. blockade against Cuba takes place under U.S. pressures to hinder the process
The UN General Assembly discusses today for the 27th consecutive year the resolution project to put an end to U.S. blockade against Cuba, this time under U.S. pressures to hinder the process.
As Cuban Foreign Minister, Bruno Rodriguez explained yesterday, the U.S. delegation presented eight amendments looking to put off voting the resolution that asks to put an end to the blockade imposed by Washington.
Differently from previous years, the process will take two days: the session this Wednesday will have the debate of the resolution presented by Cuba, detailed Cuban FM and voting will take place tomorrow.
The session today will hear the speeches of members of the UN, including the United States, and of groups of countries.
Voting on the resolution project asking for the blockade to end will take place tomorrow, because instead of facilitating the act of voting, the U.S. State Department looks to delay the process introducing eight amendments, all of them aggressive to Cuba, manipulating the cause of human rights and the UN Objectives of Sustainable Development.
He recalled there are other organs and instances where it would be appropriate to discuss those issues. We are certain that the proposed amendments by the United States will be rejected and the resolution voted with an overwhelming support, as in the past, he assured.
Washington, in its attempts to increase hostility against Cuba has had no limits in creating difficulties to the General Assembly, an international, universal and democratic organ of the United Nations, said the FM.
The U.S. delegation knows it cannot prevent the adoption of a solid resolution, with practically a unanimous support of the General Assembly against a policy that is obsolete, anchored in the Cold War and genocide according to the Geneva convention, he said.
But in its impotence, he added, the U.S. Government did not find another way this year but to try to hinder the adoption of the resolution and try to modify in an opportunist and concealing way the content of the resolution asking for an end to the blockade on Cuba.
A few days ago, the U.S. State Department presented a text of eight paragraphs of amendments. But then divided that document into separate amendments which will be analyzed by the General Assembly.
According to the Cuban FM, these actions pursue an evident purpose: create a pretext to harden the blockade and try to present the illusion there is international support to that policy.
Only last year, 191 of the 193 UN member states voted in favor of putting an end to the economic, financial and commercial blockade imposed by Washington on the Caribbean island. Only the U.S. and Israel voted against and there were no abstentions.