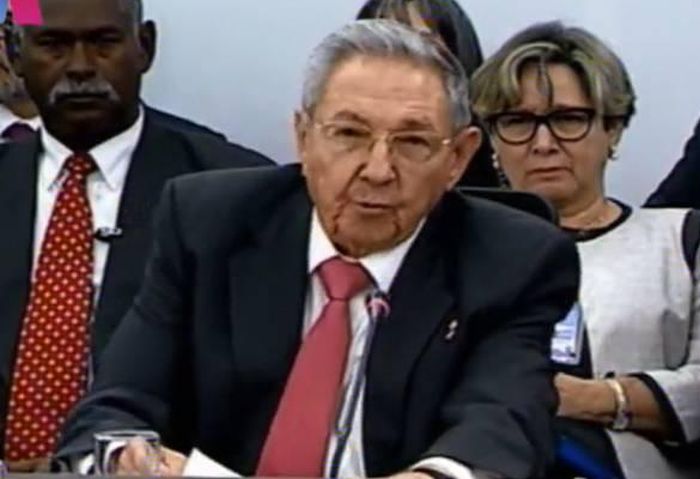 In the speech delivered at the ALBA-TCP Summit, the Cuban president said that the interference against the Bolivarian process seeks to destroy peace and dialogue among Venezuelans
During the 15th Summit of the Bolivarian Alliance for the Peoples of Our America-Peoples Trade Agreement (ALBA-TCP), Cuban President Raul Castro reiterated the support for Venezuela given the economic attack and military threat staged by the United States.
In his speech, Raul Castro said that ALBA-TCP has as strategic task the defense of Venezuela against the neoliberal attack, the interference against national sovereignty and the threats that these actions pose against the peace and security in the region.
Raul rejected attempts to undermine the progress in regional integration, as well as the methods of unconventional warfare used by the United States since 1999, the year in which the Bolivarian Revolution came to power, to defeat Venezuela, 'a country with wealth coveted by the imperial powers'.
Raul also criticized the decision of Donald Trump's Government to renew the executive order declaring Venezuela 'unusual and extraordinary threat to national security and the foreign policy of the United States.'
He denounced the intention of Trump's administration to use the Monroe Doctrine, the most notorious instrument of interventionism by U.S. imperialism in Latin America.
'The threats against peace and stability in Venezuela are also threats to Latin America,' said Raul, who condemned the unilateral measures and interference against the Bolivarian process, seeking to destroy peace and dialogue among Venezuelans and trigger destabilization and hardships to the population in this country.
Raul Castro criticized the actions to exclude President of Venezuela Nicolas Maduro from the Summit of the Organization of American States, set for April in Lima, Peru.
He said that the economic attacks and military threats against Venezuela violate the proclamation of Latin America and the Caribbean as a Zone of Peace, signed at the second Summit of the Community of Latin American and Caribbean States held in Havana.
He called for strengthening the process of integration among the countries in the region, and reiterated Cuba's support for the legacy of leader of the Bolivarian Revolution Hugo Chavez.