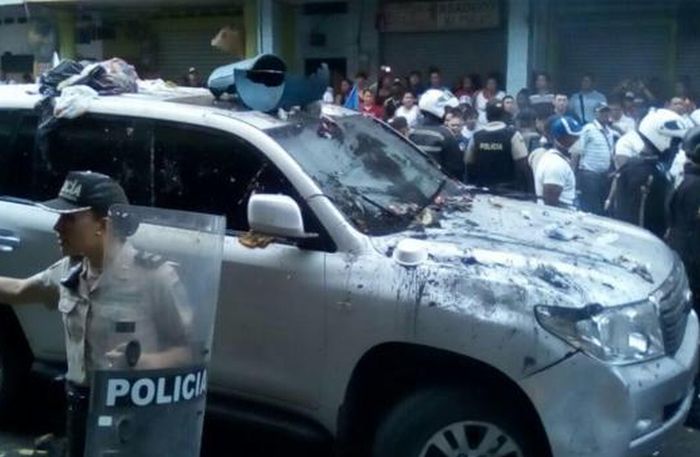 According to the Ecuadoran ex-president, the scenario will only be different when the political situation in Ecuador changes
The car of ex-President Rafael Correa was attacked today in a vandalism action, while he gave an interview to Radio Mega, in Quinindé, Esmeraldas province as part of his campaign for voting No! in the referendum.
A group of people surrounded the caravan that accompanies the former Head of State and threw litter against the cars, in addition to writing on doors and windows. Also, they threw eggs, stones and trash against the windows of the radio station.
'The situation is very serious in Quinindé. The radio where they interviewed us is surrounded by people from the municipality, with some leaders of the MPD, who were also in Borbon. What a pity for the country! A hug to our beloved Quinindé. There were many people waiting for the caravan, 'the ex-President wrote in his account on the social network Twitter.
During the interview, Correa once again called on citizens to vote 'No' in the popular consultation and referendum on February 4, a vote that he describes as 'rigged and unconstitutional.'
The exchange with the media is part of the program developed by the economist along with his followers, framed in the campaign against the content of at least three questions of the consultation.
According to Correa in a telephone conversation with TELESUR, the current scenario will only be different when the political situation in Ecuador changes.
After blaming the government led by President Lenin Moreno, to 'encourage violence, through defamation and slander,' Correa assured that in the plot act as accomplices the mainstream media, which 'inoculate hatred to people, with slander, but without presenting evidence. '
'When we recover the State of having rights and change the political situation, these people will have to respond to justice,' he pointed out.