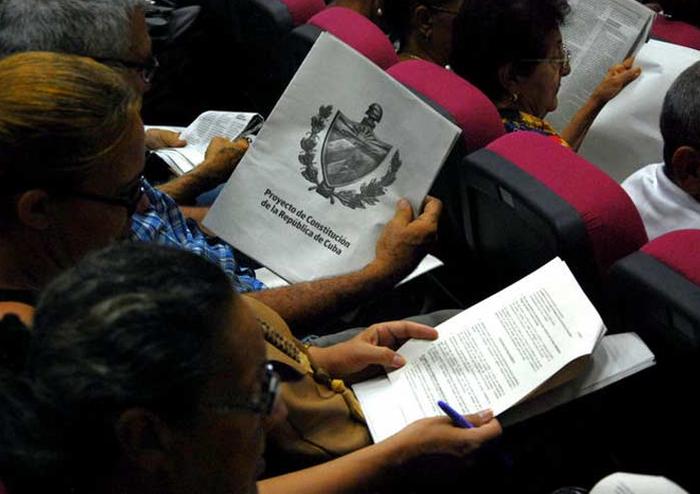 Millions of Cubans have been called to actively participate in the national consultation on the Draft Constitution as of today until November 15
On a special day for the island's inhabitants, commemorating the 92nd anniversary of the birth of the historical leader of the Revolution, Fidel Castro (1926-2016), work centers and neighborhoods are scheduled around the country to hold meetings in which people can express their opinions and make proposals to improve the letter of the constitution.
Biran, a town in eastern Cuban region where Fidel Castro was born, hosts one of the assemblies to discuss the document approved on July 22 by the People's Power National Assembly, an initiative that represents a total reform of the Constitution in force since 1976.
According to official sources, more than 15,000 people organized in duos will have the mission in these months to conduct the popular consultation about a text composed of one preamble and 224 articles (87 more than the current Constitution), divided into 11 titles, 24 chapters and 16 sections.
The draft ratifies the socialist nature of the island and the leading role of the Communist Party in its society, proposes changes in the structure of the State, broadens human rights and presents to the constitutional rank principles such as the condemnation of terrorism and the promotion of multilateralism.
Eldis Vargas, vice president of Correos de Cuba Business Group, confirmed yesterday the high demand the tabloid has had throughout the country, without any advertising campaign.
He stated that until that time, about 1,004,263 pamphlets had been sold and another 90,000 copies will be available as of today in the western and central provinces, except for Havana, and 60,000 more will also be transported to the eastern region.
Vargas said that in this way about 1,200,000 pamphlets marketed have been sold in every corner of the country.
After the consultation and based on the proposals of the population, the National Assembly will draw up the Constitution that will be submitted to an approval referendum.
According to the Ministry of Foreign Affairs, Cuban residents abroad will be capable of joining the debate on the new Constitution in early September, for an unprecedented process in almost six decades of the Revolution.