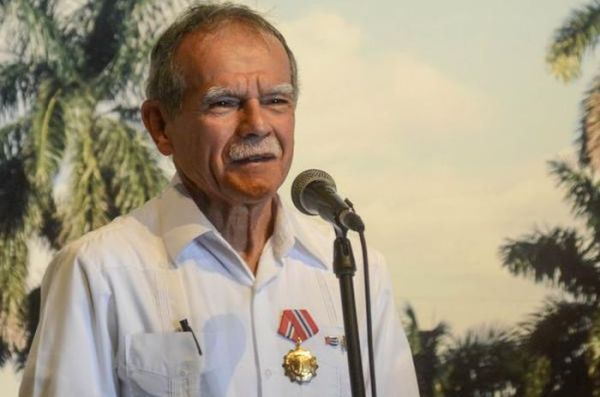 Oscar Lopez Rivera was imprisoned for more than 36 years in the United States for his independence ideas
Independence activist Oscar Lopez Rivera said today that the UN and its General Assembly must take into account as soon as possible Puerto Rico's case and put an end to the colonialism imposed by the United States.
As time passes and this issue is not resolved, conditions on the island go from bad to worse, so it should not be another year without addressing the matter at the United Nations, said Lopez Rivera in exclusive statements to Prensa Latina.
We have enormous problems caused by the U.S. government, for example, that issue of creating a fiscal control board that dictates to the Puerto Rican people how they will spend their money and where to use it, he said.
We are also suffering the consequences of privatization: living conditions have been declining because public corporations -which previously provided services- no longer exist or are in foreign hands, especially American industries, he added.
Puerto Rico is still a guinea pig not only for U.S. corporations, but also for the government of that country, so we will continue with our claim for independence, he said.
The United States, as Pedro Albizu Campos said, wanted the cage, but not the pigeons. In other words: it seeks to stay with Puerto Rico and, at the same time, eliminate its people, depopulate the territory, force people to leave Puerto Rico, warned the anticolonialist fighter.
Lopez Rivera, who was imprisoned for more than 36 years for his independence ideas, recalled how five million Puerto Ricans live outside the country and only about three million remain in the territory.
The United States has been achieving one of its goals, depopulation, and now more than ever we need the UN to hear our demand for independence, he said.
The General Assembly is the one that has the responsibility and the strength to address the independence issue and can make a decision to decolonize Puerto Rico, he noted.
That body has to force the U.S. government to stop the crime against humanity that is colonialism and even more in Puerto Rico's case, the oldest colony in the world, he stressed.
We need the support of the entire world, because the United States has the veto power in the Security Council, and this gives it an opportunity to decide what the future of Puerto Rico will be, he warned.
We need the support of all the people who believe in justice, in freedom and are against the crime of colonialism; the whole world has to fight for the independence and sovereignty of Puerto Rico, he reiterated.
Puerto Ricans must govern Puerto Rico, they should have control and not the foreign entities and the United States Government.
That was the claim of the independence fighter supported on Monday by the United Nations Decolonization Committee.