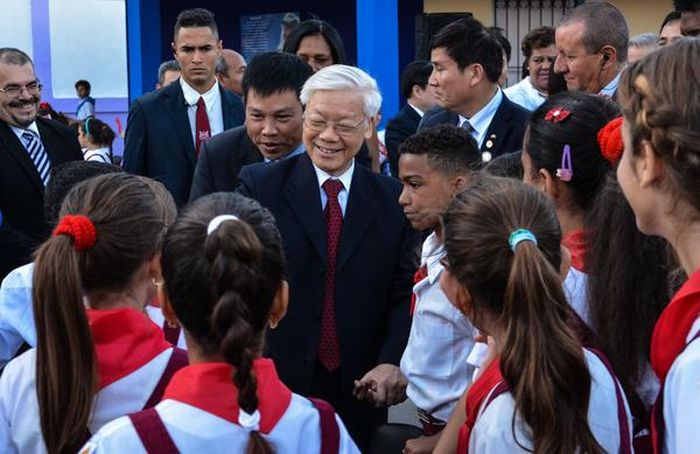 The Secretary General of the Communist Party of Vietnam (PCV), Nguyen Phu Trong, highlighted in Havana the ties of brotherhood that unite the Asian country with Cuba.
'Vietnam and Cuba are geographically thousands of miles away, however, for many years thanks to leaders Fidel Castro and Ho Chi Minh we have special relationships,' said the leader during his visit to Vo Thi Thang Elementary School.
In a few words, he highlighted the achievements of the largest island in the field of education, which make it remain a luminous beacon, as a result of the revolution and the guidance of the Communist Party of Cuba (PCC).
Nguyen Phu Trong was received at the educational center, located in the coastal municipality of Playa, by the Minister of Education, Ena Elsa Velázquez; the head of the Department of International Relations of the Central Committee of the PCC; José Ramón Balaguer, and other leaders.
During the stay of the Vietnamese leader, who arrived yesterday at the island for a three-day official visit, a donation was made official for Cuban schools.
Velázquez thanked the gesture and assured that the resources delivered, including computers, will be used to raise the quality of teaching of primary school students.
The leader welcomed the visitor and also highlighted the bonds of friendship that unite his country and Vietnam.
'Receive on behalf of the students and professors the gratitude of the Cuban people to the noble and generous Vietnamese people for their willingness to support Cuba under any circumstance. Be certain that we will continue to preserve the indissoluble bonds of friendship and solidarity that unite us, 'he said.
In her speech, the Minister of Education recalled the Vietnamese hero Vo Thi Thang (1945-2014), which is the name of the center where 504 children study from kindergaten to sixth grade.