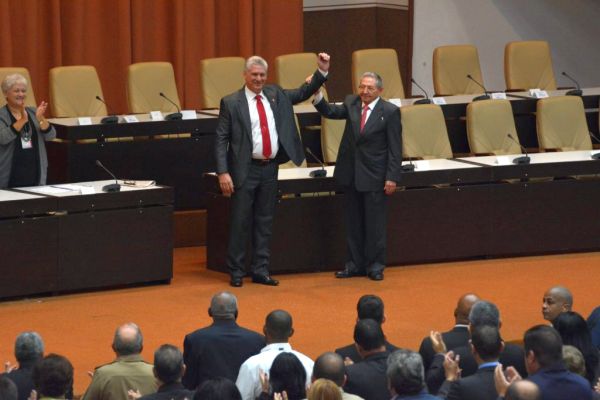 The Cuban Parliament elected Miguel Díaz-Canel as president of the State Council for a term of five years, the National Electoral Commission announced today
According to the president of the Commission, Alina Balseiro, the former vice president of the country received the unanimous support of the National Assembly of People's Power (99.83 percent of the votes), an entity that installed Palace of Conventions its IX Legislature.
Miguel Díaz-Canel's First Speech after Taking Office
The electronic engineer and master in Management, who was born on April 20, 1960, accumulates extensive experience as a student and political organizations leader.
Since 2003, he is a member of the Political Bureau of the Communist Party of Cuba (PCC), while at the governmental level he became in 2009 Minister of Higher Education and promoted in February 2013 to the first vice presidency of the Councils of State and Ministers.
The deputies also elected Salvador Valdés as the first vice-president of the Council of State in the constituent session of the new legislature, which represents the Parliament between its two regular annual sessions.
In the suffrage celebrated yesterday, resulted also elected Ramiro Valdés, Roberto Morales, Gladys Bejerano, Inés María Chapman and Beatriz Johnson to occupy the responsibility of vice presidents of the Council, and Homero Acosta received the vote to continue as secretary.
Díaz-Canel replaces Raul Castro in the presidency of the largest of the Antilles, who on several occasions had expressed the decision to conclude his term in office after two terms and for the IX Legislature.
Parliamentarians interviewed by Prensa Latina, including the Minister of Culture, Abel Prieto, the first secretary of the PCC in Havana, Mercedes López; the director of the National Choir of Cuba, Digna Guerra, and the self-employed (worker of the private sector) Jorge Luis Romero, agreed in assuring that the continuity of the Revolution is guaranteed.
In that sense, they highlighted the commitment of the new generations of Cubans to the historical generation that led the process of transformation initiated on January 1, 1959, with the legacy of the leader and commander in chief Fidel Castro (1926-2016), and with Raúl Castro.