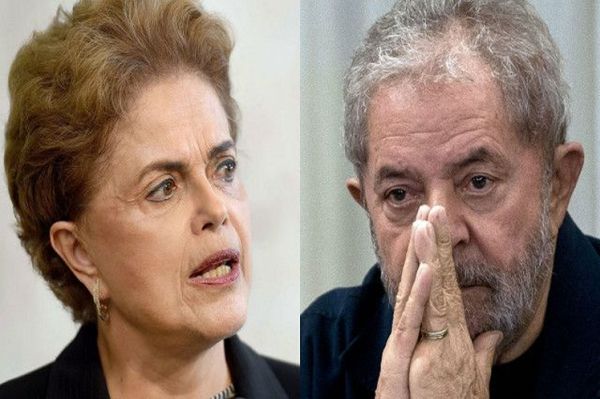 The founder and historic leader of the PT received last week the visit of 11 senators sent by the Human Rights Commission
Deposed constitutional president of Brazil, Dilma Rousseff, visits today former president Luiz Inácio Lula da Silva, political prisoner since April 7 at the Superintendency of Federal Police (PF) in Curitiba.
Rousseff will participate in the meeting of the national directory board of the Workers' Party (PT) which will session in the Parana capital, and after that she will meet Lula, according to the Blog of Esmael (Morais).
Victim in 2016 of a 'parliamentary, media, supported by the Judicial Power and part of the financial system' coup -according to Dilma herself- she just returned from a tour of Europe and the United States in whicjh she denounced not only the ruptura of the democratic order in Brazil, but also the judicial persecution and unjust sentence condemning Lula.
In a conference dictated last Wednesday at the State University of San Diego, California, she explained that Lula serves in a 'solitary' cell and said that although he is strong, he is being submitted to inhuman conditions of imprisonment.
The founder and historic leader of the PT received last week the visit of 11 senators sent by the Human Rights Commission and Legislative Participation of that House went to verify the conditions in which the former president is serving his sentence. Accordig to members of the senatorial commission, what worried them the most is the isolation to which Lula is being submitted.
On that occasion, senator Joao Capiberibe assured the ex-president 'is quiet but disturbed about the distorted information reaching the population'.
Capiberibe sustained that was a political visit 'because he is a political prisoner. He is a former president with about 35 percent of voters' preference', he stressed.
Those who by decision of the federal justice of Parana were prevented from meeting Lula in a humanitary and religious assistance visit were the Nobel Peace Prize Adolfo Perez Esquivel and Brazilian theologist Leonardo Boff.
Perez Esquivel denounced the discriminatory and violator of the ex-president's rights assumed by judge Carolina Lebbos and in a note spread from Curitiba assured him that 'the world knows and mobilizes in favor of his liberty. Count with our solidarity and support', he reaffirmed.
Boff also lamented he was denied the possibility to mee tan old friend and said present Brazil is a ship without course and Lula is the only one, in the eyes of the people, who 'glows' with the power to revert the inequities committed by (Michel) Temer's government.