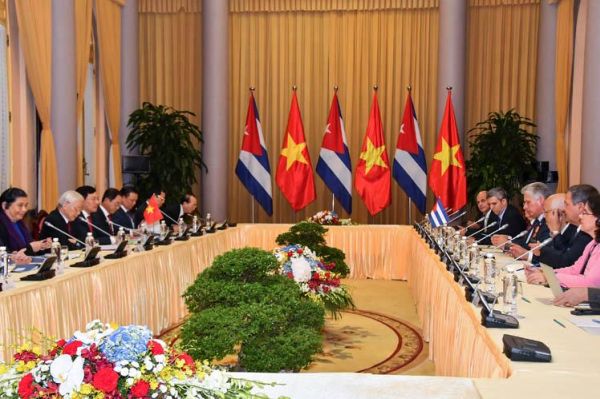 Cuban President Miguel Diaz-Canel described the meetings he held with Vietnamese authorities as excellent, as part of his visit to this country
'Excellent meetings with the highest Vietnamese authorities. They ratify the will to raise the level of our economic relations to the same level as political relations. #WeareCuba, on a tour to strengthen historic relations with #Vietnam', said the Cuban head of State in his @DiazCanelB on Twitter.
The Cuban leader also expressed his appreciation to the Vietnamese people in building their development model.
'Much to learn from our Vietnamese brothers, winners of wars, blockades and also from the inheritances of underdevelopment, with exemplary work, creativity and discipline. #We areCuba,' he stressed.
The Cuban president is visiting Vietnam as part of a tour of Asia that also took him to the Democratic People's Republic of Korea and China.
Before starting this tour, he made a stopover in France, and then an official visit to Russia.
In each stopover Diaz-Canel ratified the continuity of the Cuban Revolution and the brotherhood of the Cuban people with each nation he has visited.
Diaz-Canel was received in Vietnam by his peer, Nguyen Phu Trong, and the two leaders renewed decades of political identity, friendly cooperation and friendship between Cuba and Vietnam.
He also met with the chairman of the National Assembly of Vietnam, Nguyen Thi Kim Ngan, and they agreed that parliamentary ties are essential to establish close friendship between both countries.
Likewise, Vietnamese Prime Minister Nguyen Xuan Phuc received Diaz-Canel, and ratified the will to consolidate economic and cooperation relations to equate them with policies.
The Cuban president laid a wreath at the Ho Chi Minh Mausoleum, one of the most visited places in this capital and a part of Vietnam's history, where the remains of the father of the country's independence and reunification lie.