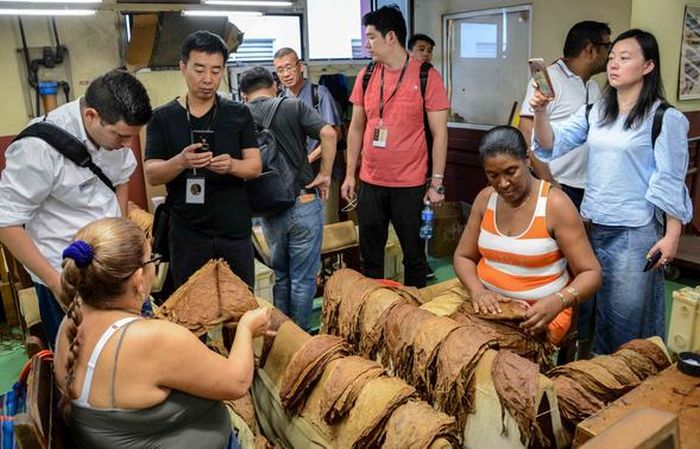 The visitors were informed on the most complicated and beautiful processes of Cuban famous and quality cigars
Participants at the 20th Habano Cigar Festival visited Partagás and La Corona factories, to learn more about the manufacture of the most famous Premium cigars in the world.
Both industries are located in the central area of Havana, in humble neighborhoods, where tradition and history enrich and follow the knowledge about how to roll a cigar in the best possible way.
This was extremely attractive part of the Festival, and along with the visit to the plantations, it illustrated the attendees in the most complicated and beautiful processes of this Cuban product.
The visitors talked in the industries with quality cigar heads, cigar rollers and workers who provided ideas about this island's world-famous agro-industry.
Some experts explained opportunely this journalist that a deepening in the history and architecture related to the Cuban tobacco appeared linked to the tobacco factories in this capital.
Researcher Lourdes Domínguez, from the Office of the Historian of Havana, analyzed in her works the oldest history of tobacco.
Expect Carlos Venegas, of the Juan Marinello Cultural Center in Cuba, marked Havana as the city of the tobacco, first with the manufacture of snuff and later rolled cigars.
The tobacco factories were rebuilt from 1773 to 1778 and the milled tobacco was replaced by the rolled one in late 18th century.
As of 1840, the big tobacco factories raise, in this capital usually with two plants, with 600 or 1,000 workers.
This time, the delegates to the Festival could learn some details of the current situation of the tobacco factory production.