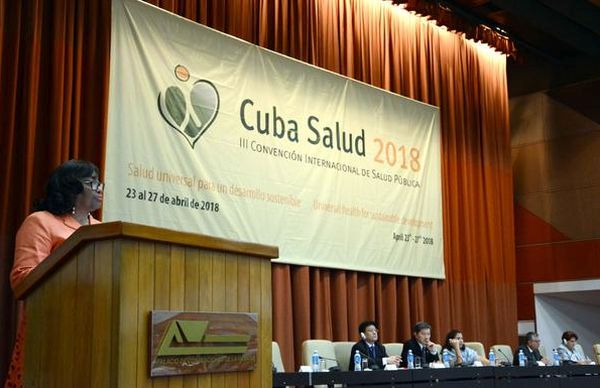 Experts from more than 80 countries are participating in the debates in the context of the 3rd International Convention, Cuba-Salud 2018
Specialists from more than 80 countries are debating today on universal health for sustainable development in the context of the first scientific day of the 3rd International Convention, Cuba-Salud 2018.
The debate is led by the director of the Pan-American Health Organization, Carissa Etienne, who participated here yesterday in the opening ceremony of the 16th Vaccination Week in the Americas.
Health ministers Ariana Campero (Bolivia), Christopher Tufton (Jamaica) and Piyasakol Sakolsattayathorn (Thailand) are also presiding over the plenary session at the Conference Center in Havana, along with Etienne.
China's Deputy Health Minister, Wang Hesheng, is part of the group of panelists who will insist on the need to improve welfare services of the population, as a determinant factor of the social development.
Today's agenda also includes a hygiene and epidemiology congress and symposia on occupational health, maternal and child, and cancer.
As part of the Convention, scheduled until April 27, the 14th Health for Everyone Trade Fair was opened yesterday at Pabexpo fairgrounds in Havana, in the presence of Director General of the World Health Organization, Tedros Adhanom, Etienne and representatives of 31 countries.