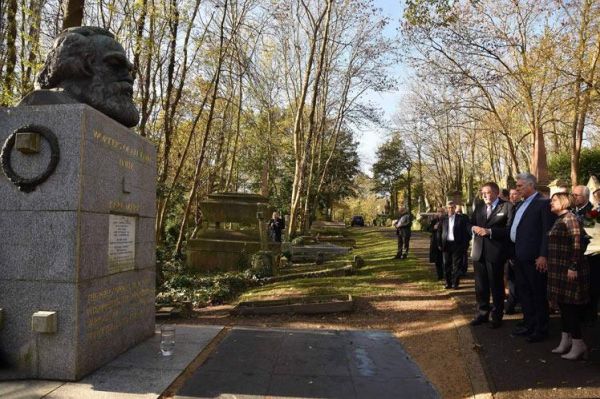 Cuban President Miguel Diaz-Canel paid tribute to Karl Marx today at the London cemetery in Highgate where the remains of the German philosopher rest
The president of the island, who makes a transit visit to the United Kingdom after an international tour, visited on Wednesday the grave of one of the fathers of scientific socialism, considered one of the great thinkers of history, in the famed cemetery of the British capital.
Before his headstone, a pedestal of two meters high in the shape of a cube that holds an effigy of the philosopher who revolutionized the world, the Cuban head of state deposited a bouquet of flowers in the name of the Cuban people.
'We pay tribute to one of the great thinkers of humanity, Karl Marx, before his grave in the Highgate cemetery, in the year of the bicentennial of his birth and the 135th anniversary of his physical disappearance', the dignitary wrote in his account of the social network Twitter.
The members of the delegation accompanying the president of the Councils of State and Ministers of Cuba also placed flowers before the slab of one who is also seen as one of the fathers of scientific socialism, Marxism and historical materialism.
The headstone of Marx has inscribed a recorded message: 'Proletarians of all countries, unite', present in the last line of the Communist Manifesto, one of his best known works and written with his close friend Friedrich Engels.
Also it appears the phrase of the Thesis XI on Feuerbach (edited by Engels): The philosophers have only interpreted the world of different ways, but of what treats is to transform it.
Marx and Engels laid the foundations of scientific socialism and Marxism through the examination of history and its transformation.