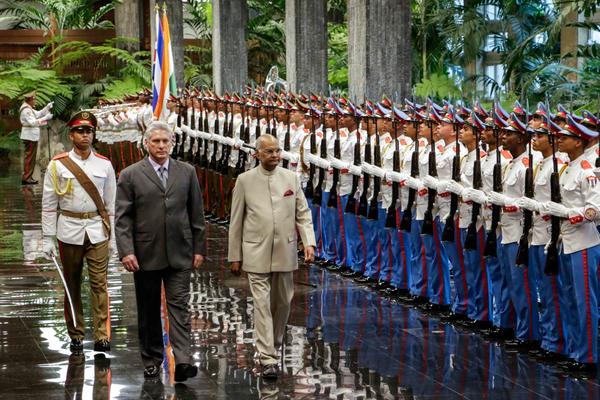 The President of Cuba, Miguel Diaz-Canel, received today in Havana his Indian counterpart, Ram Nath Kovind, who is making a two-day visit to the island
After the reception and the ceremonial protocol in the Palace of the Revolution, both leaders began official talks.
Before the meeting, Kovind paid tribute to the Cuban national hero, Jose Marti, at the Memorial named after the independence leader.
Earlier in the day, the visitor paid tribute to Indian independence leader and pacifist Mahatma Gandhi in a Havana park and toured the Center for Genetic Engineering and Biotechnology.
Kovind's intense agenda will continue with the signing of several agreements in the biotechnology and health sectors
The Indian president arrived on Thursday in Cuba through the eastern city of Santiago de Cuba, where he paid tribute with a floral offering to the historic leader of the Cuban Revolution, Fidel Castro, in the Santa Ifigenia cemetery.