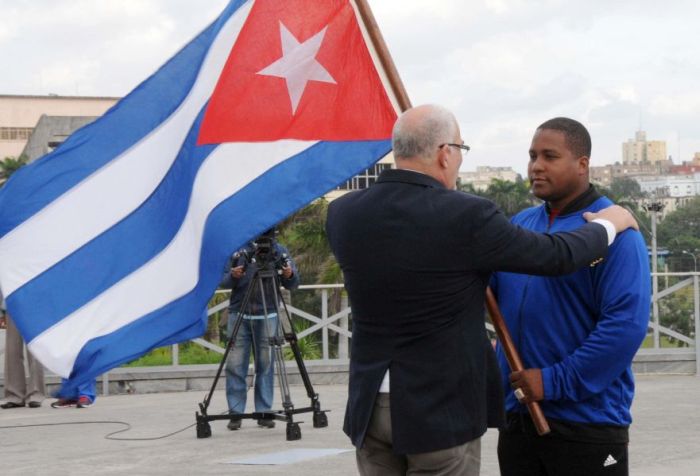 The Caribbean island will be represented by the members of the team from Granma province, winners of the Cuban National Baseball Series
Granma team, Cuban representative in the Caribbean Series Baseball Tournament Guadalajara-2018, received the flag today in Havana.
In the Revolution Square and at the foot of the monument to the National Hero Jose Marti, the athletes Yurisbel Gracial and Guillermo Avilés placed a floral tribute.
Alfredo Despaigne, currently the best Cuban batter, escorted by pitcher Lázaro Blanco and fielder Frederich Cepeda, received the national flag from Antonio Becali, president of the National Sports Institute.
In the commitment of the athletes, read by catcher Frank Camilo Morejón, the intention to be worthy representatives of Cuba and the ideas of José Martí and Fidel Castro, and the purpose of asserting the quality of Cuban sports, always under the premise of the fair play, was ratified.
Carlos Martí, the manager of the team, took the opportunity to represent the Cubans. 'It is an honor that makes us proud because we are children of the Revolution and its work,' he added.
José Ramón Fernández, head of the Cuban Olympic Committee presided over the ceremony to give the flag t the team Granma to the Caribbean Series.
Baseball and federation directors from the National Sports Institute were also present.