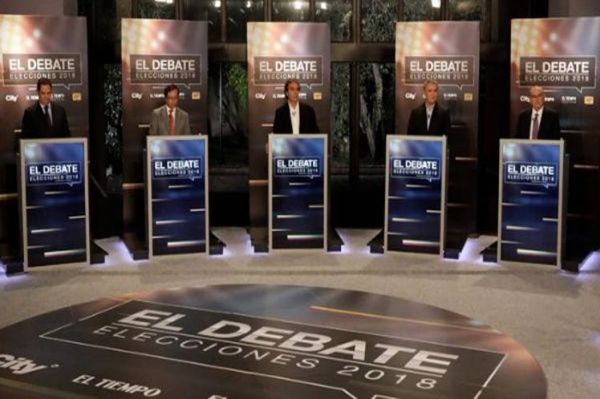 The candidates discussed several issues like the fight against insecurity, but had different viewpoints on the Special Peace Justice (JEP) and the transparency of the elections
Seventy-two hours before the presidential elections in Colombia, all five candidates participated in a heated debate with marked contradictions in such issues as the electoral guarantees and justice in peacetime.
The debate ended close to midnight among Ivan Duque, from Uribe's Centro Democratico; Gustavo Petro, from the Colombia Humana movement; Sergio Fajardo, from Coalicion Colombia, and former Vice-President Germán Vargas Lleras and Humberto de la Calle, from the Liberal Party.
Although they debated several issues like the fight against insecurity and corruption in the country, they had different viewpoints on the Special Peace Justice (JEP) and the transparency of the elections.
In the specific case of the JEP regarding FARC leader Jesus Santrich, the representative of Uribe's party noted that ordinary justice must take care of the case 'to proceed rapidly with the extradition'.
In the same tune, Vargas Lleras strongly criticized the JEP's decision to suspend the extradition temporarily and noted that 'Santrich has no judicial or penitentiary privileges'.
The government's former chief negotiator in Havana presented another viewpoint. Speaking about the JEP is speaking about peace, noted De la Calle, who defended the role of that court and insisted that the peace agreement is clear and it was well negotiated.
Fajardo, in turn, noted that the agreement must be respected and highlighted the importance that Colombia embarks in transitional justice.
In that regard, the candidate from Colombia Humana pointed out that peace in the country has to do with society itself and implies deep social reforms in health care, education and the economy.
Petro not only legitimized the JEP, but recalled that it was established not only for the former guerrillas from the FARC (Alternative Revolutionary Force of the Common), but for all stakeholders who exercised violence in the armed conflict.
Vargas Lleras and Duque criticized Petro for having denounced the possibility of fraud in next Sunday's elections on the basis of a possible manipulation of the software.
The former mayor of Bogota, who ranks second in the polls, after Duque, accused his rivals of being extremists for suggesting that he was inciting violence if he does not win on Sunday.
'We will hold a great popular party because we will win', he said, after noting that the failures in the electoral system are coherent with the corruption that exists in the country.