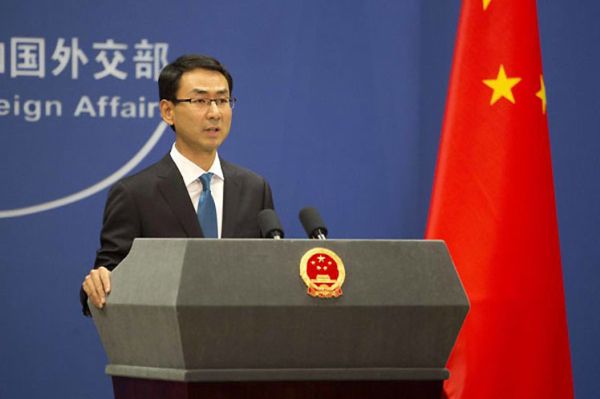 China criticized that the United States took its hostility to the Asia-Pacific Economic Cooperation (APEC) summit and break the harmony of a forum summoned to deepen regional integration
Geng Shuang, spokesperson of the Foreign Ministry, said in a press conference that U.S. Vice-president Mike Pence, with his statements only showed anger against the Asian giant and led to disagreements and conflicts between those who wanted to close common stands to expand collaboration in the bloc.
'The Asia-Pacific region is home to many neighboring nations, not a battlefield where some struggle to be winners. APEC is a platform to deepen cooperation, not a place to criticize', he asserted.
The spokesperson assured that China, in the voice of President Xi Jinping, went to the summit looking for consensus, not to confront anyone or compete for a geostrategic position.
'We expect the United States can work with China and other parties with respect to diversity IN Asia-Pacific, promote cooperation and build economic integration based on confidence and mutual benefit', he added.
On Saturday, Pence was given the stand immediately after Xi Jinping in Papua New Guinea to transmit a belligerent message that only showed obstinacy of his government to exacerbate tensions between Washington and Beijing.
The Vice-president stressed that the White House will maintain its hostile stand against China, threatened to double tariffs on imports under the pretext of rebalancing the trade balance and criticized the initiative of the Belt and Route.
However, he presented the United States with the image of a partner 'open and transparent', who does not coerce, corrupts or puts Independence at risk' of any nation.
After that he defiantly dialogued later in Port Moresby with representatives of the island of Taiwan, which China considers an inalienable part of its territory.
China denied today accusations that its diplomats attempted to reach the office of Prime Minister of Papua New Guinea to influence on the final declaration of the APEC summit.
Geng Shuang told journalists that those are malicious rumors spread with hidden motives.
'China and Papua New Guinea have always kept a fluid and efficient communication. Any attempt to poison our relations will fail', he asserted.
On the other hand, Geng commented that although the APEC summit ended without a final document, it allowed for a positive debate on practical cooperation among the members of the bloc.
The bloc —founded in 1989— gathers a market of some 2.8 billion consumers, that is, 40 percent of the global population.