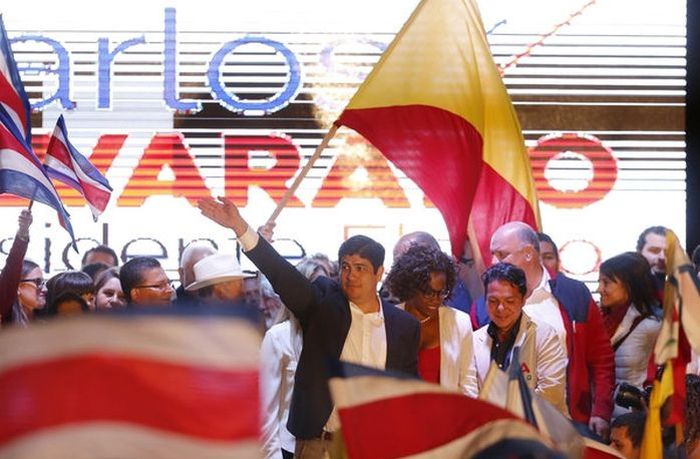 Carlos Alvarado, of the governing Citizens Action Party, won the electoral runoff Sunday to become Costa Rica's next president
When the vote count was over 90 percent, the former minister had won over 1,205,864 valid ballots for more than 60 percent of the electorate marking an irreversible trend. The governing party candidate was well on top of opponent Fabricio Alvarado, of the National Restoration Party, who had 782,009 votes for 39,34 percent.
The turnout was unexpectedly high as 66,91 percent of 3,322,329 Costa Ricans registered to vote casted their ballots to choose between the former minister and an ultraconservative evangelical preacher.
Costa Ricans voted Sunday in a second round of elections, between the two candidates that got the highest number of votes back on February 4.
Carlos Alvarado of the incumbent Citizens' Action Party stood on a platform of reining in the deficit, improving education and maintaining ecological standards.
The 38-year-old President-Elect was labor and social security minister in the last government and is a political scientist and writer. He studied literature at college, where he also sang in a rock and roll band.
Differently, Fabricio Alvarado, 43, is an evangelical pastor who heads the National Restoration Party ‒ a party name that many construe as a loaded term for turning back the clock on equal rights.
He came from nowhere in the first round of the presidential election held in February to head a field of 13 candidates with 25 percent of the vote, over Carlos Alvarado's 22 percent.
He is a former TV newscaster, a gospel singer and a member of the archconservative Protestant Pentecostal movement. He lost the elections despite being endorsed last week by the candidate who came in third in February 4 with 18 percent in the preliminary round, Antonio Alvarez.