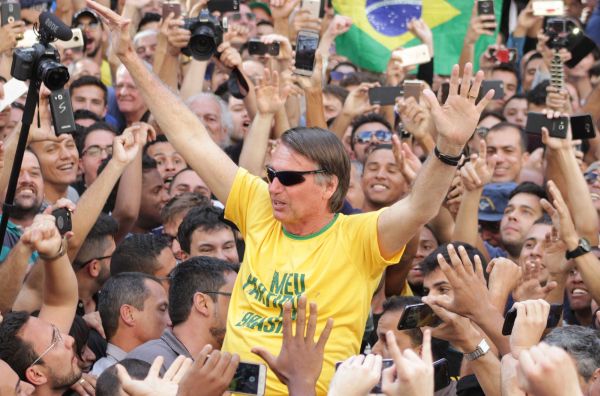 Fernando Haddad from the Workers Party (PT) and far-right politician Jair Bolsonaro from the Social Liberal Party (PSL) will be the two candidates of the runoff
Fernando Haddad from the Workers Party (PT) will face far-right politician Jair Bolsonaro from the Social Liberal Party (PSL) in the runoff election slated for October 28 to decide who will be Brazil's next president.
None of them won 50 percent of the ballots in the Sunday general elections in which over 147 million Brazilians eligible to vote also  picked 27 governors, 54 senators, 513 federal representatives and 1,035 state lawmakers.
With 99.36 percent of the votes counted, Bolsonaro, a retired Army captain, won 46,1 percent and Haddad, former Education Minister, obtained 29.09 percent. In a country where voting is mandatory, some 20,43 percent of the electorate abstained.
In his first speech after the vote Haddad thanked the party and voters, warning that Brazil could face another episode of dictatorship and called on the voters to take the opportunity of maintaining democracy and social justice. He repeated his commitment to a peaceful and respectful campaign, using arguments as only weapons.
He added the PT has a democratic program, 'a program based on social justice, development and equity. We want to unite the country under that concept, and guarantee popular sovereignty and respect for workers,' he asserted.
Bolsonaro, who showed disappointment in his post vote speech, has been criticized nationally and internationally for his authoritarian, sexist, racist, homophobic and fascist comments and behavior. His running-mate Hamilton Mourao, a retired general, has suggested a military coup is possible in Brazil and also spoke of 'whitening the race'.
The third candidate in the race was Ciro Gomes, from the labor Democratic Party, who got 12,5 percent of the votes, followed in fourth place by former governor of Sao Paulo Geraldo Alckmin, of the Brazilian Social Democracy Party, with 4,83 percent.
Joao Amoedo, of the New Party, won 2,58 percent and Cabo Daciolo, from the Patriot Party, 1,25 percent. Brazilian Democratic Movement candidate Henrique Meirelles obtained 1,21 percent and the Sustainability Network runner Marina Silva, just 1 percent. The rest of the five candidates got below that.