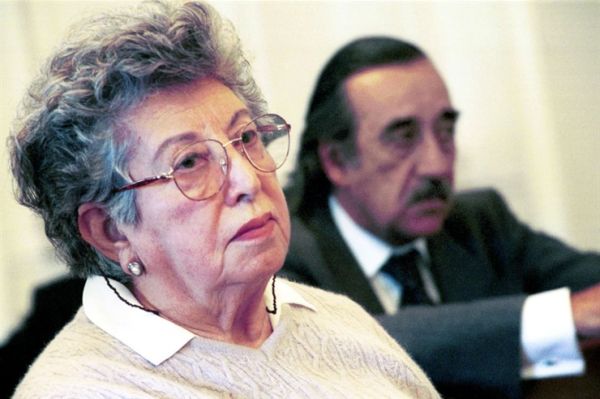 Chicha Mariani was a fundamental woman at the beginning of the search for children taken by state terrorism
The historic Grandmothers of the Plaza de Mayo are mourning as well as the Argentine human rights organizations, which are facing the physical departure of one of its founders, Chicha Mariani, who died without being able to recover her granddaughter.
Symbol of struggle in the search for children stolen by the dictatorship, Chicha was hospitalized for about 10 days after having suffered a stroke.
Since the midnight of yesterday hundreds of messages began to appear in the social networks to bid farewell to the beloved fighter, while many, above all the young people who could find their true identity, stolen at the time of the last military dictatorship (1976-1982), promise to fight to find her dear Clara Anahi.
In a moving statement, the Grandmothers said goodbye with great sadness to one of its founders and current president of the Clara Anahi Foundation, who died at the age of 94.
She was a fundamental woman at the beginning of the search for children taken by state terrorism and a symbol of the struggle for human rights, the text emphasizes.
The group led by Estela de Carlotto recalls that Maria Isabel 'Chicha' Chorobik de Mariani was one of the 12 founders of Grandmothers, those fighters who, against all the flags, desperately sought out their children's children, stolen in one of the darkest stages of this earth.
She, with Alicia 'Licha' Subaznabar, began to meet in the city of La Plata -the provincial capital of Buenos Aires- to along with other mothers find a way to find their grandchildren.
Chicha's daughter-in-law, Diana Teruggi and her granddaughter Clara Anahi, of barely three months old, were missing after a brutal operation in the house where they lived, the Grandmothers remember today.
From testimonies, it was learned that the girl was taken out of the house alive. Since then Chicha and the Grandmothers look for Clara Anahi. Dear Chicha, we will continue to look for her, along with all the missing grandchildren, the communiqué concludes.
The profound pain was also joined by Nobel Peace Prize winner Adolfo Perez Esquivel who pointed out: farewell dear Chicha. The Argentine people continue your struggle and the search for Clara Anahi.