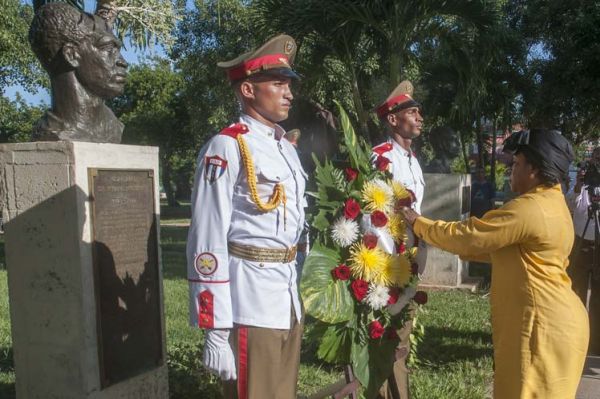 Shirley Ayorkor Botchwey held talks with her Cuban couterpart Bruno Rodríguez Parrilla and signed the Agreement for Regular Diplomatic Consultations

On the eve, Cuba and Ghana foreign ministries signed the Agreement for Regular Diplomatic Consultations in order to promote and strengthen bilateral ties and cooperation through talks
The bonds that unite Africa and the Caribbean are indissoluble, expressed the Minister of Foreign Affairs and Integration of Ghana, Shirley Ayorkor Botchwey, in Havana
After paying tribute to the father of Ghanaian independence, Kwame Nkrumah, in the park of the African Próceres, Botchwey she recalled the historical ties that link both regions.
We congratulate the African and Caribbean peoples who fought to achieve their independence and development in every way, added the foreign minister, who has been tirelessly working in Havana for two days.
In her opinion, attendance at the ceremony of representatives of the diplomatic corps accredited in Cuba and members of the African Union shows the links with Caribbean nations.
The minister requested a minute of silence to pay tribute to Kofi Annan, who died on August 18 in Switzerland, at the age of 80, and was secretary general of the Organization of Nations from 1997 to 2006.
I thank the Cuban Government and people for building the African Heroes Park and I hope that in the near future we can have a bust of the former Ghanaian diplomat, recognized with the Nobel Peace Prize in 2001, she remarked.
For her part, the vice president of the Cuban Institute of Friendship with the Peoples, José Prieto, considered that Botchwey's visit constitutes a favorable scenario to pay tribute to those who did so much for the independence of Africa.
On the eve, Cuba and Ghana foreign ministries signed the Agreement for Regular Diplomatic Consultations in order to promote and strengthen bilateral ties and cooperation through talks.
Havana and Accra established diplomatic relations in 1959 as a result of the meeting between the then Prime Ministers, Kwame Nkrumah and the historical leader of the Cuban Revolution, Fidel Castro, at the Theresa Hotel, in the African-American neighborhood of Harlem, in New York.