The Seychelles embassy in Cuba is the first of that African nation to be opened in Latin American and the Caribbean region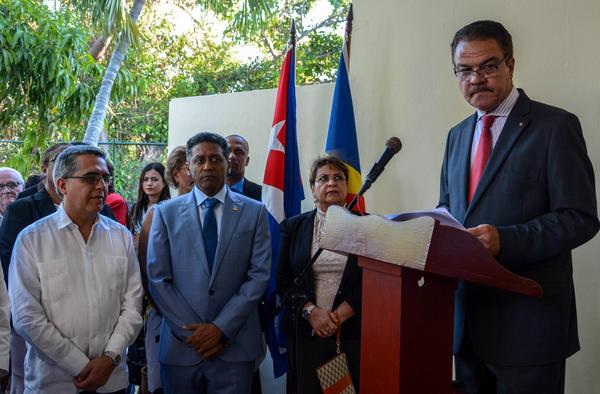 Seychelles President, Danny Faure, opened his country's embassy in Cuba this Wednesday, as part of his official visit to the Caribbean nation.
The Seychelles embassy in Cuba is the first of that African nation in the Latin American and Caribbean region and its opening took place by late 2016.
As part of its program of activities, the Seychells statesman will also lay a wreath to honor Cuban National Hero, Jose Marti, at the Memorial Monument in the Revolution Square.
He also expects to meet with Cuban National Assembly President, Esteban Lazo.
Cuba and Seychelles established diplomatic relations on April 12th, 1978, and have maintained close cooperation in medical care, especially disease and pest control, as well as in sports, cultural, economic and social spheres.
According to official data, more than 200 young people have studied in Cuban universities and other educational centers.
About 16 young people are currently studying on the Caribbean island, where Faure took university studies and graduated as a Bachelor on Political Science in 1985.
Seychelles is an East African state, made up of 115 islands located in the Indian Ocean, northeast of Madagascar. The capital, Victoria, is inhabited by a third of the country's population.