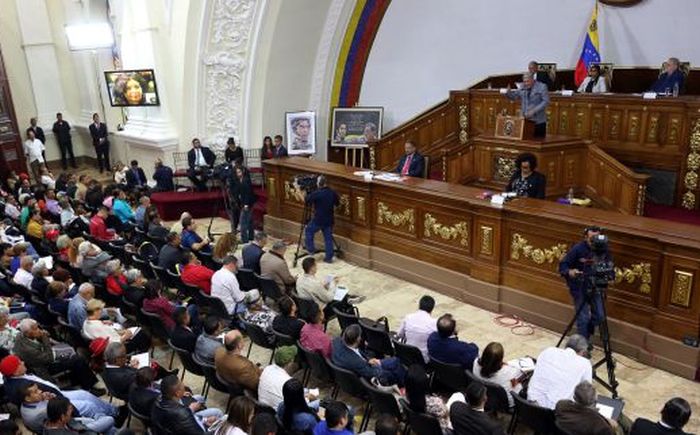 The ANC members are defending Venezuela's right to be free and sovereign, and ratified the safeguard of the legacies of Simon Bolivar and Hugo Chavez.
The National Constituent Assembly (ANC) unanimously passed a decree condemning the U.S. financial blockade of Venezuela, intended to suffocate the people economically.
In addition to condemning Washington's recent economic sanctions, the lawmakers demanded severe sentences against those who demanded punitive measures and military intervention to the administration of President Donald Trump.
The ANC members also defended Venezuela's right to be free and sovereign, and ratified the safeguard of the legacies of Liberator Simon Bolivar and Commander Hugo Chavez.
They noted that the supporters of the siege of Venezuela, members of the national right, are committing an act of treason of the Homeland and they should be tried accordingly.
In that regard, ANC Speaker Delcy Rodríguez noted that not even the servility of the transnational right will help the U.S. government to put its claws on the homeland of Bolivar and Chavez.
She ratified that the opposition is attempting against the rule of law in the country.
The former foreign minister assured that the intentions to undermine the productive foundations of the oil industry, as happened in 2002, will be neutralized by the revolutionary government's strengthening of international relations with the multipolar world.
For his part, Adan Chavez noted that Venezuela is willing to build a socialist project peacefully, but it is willing to act in whatever field that is necessary to defend its sovereignty.
He underlined that the U.S. government's latest aggressions against the Venezuelan people are part of a destabilizing plan that has been implemented since President Hugo Chavez took office.
'A media war, an economic warfare and a terrorist war, they had one of their worst consequences over the past few months. Everything is part of the imperial script of an ongoing coup d'état. Those measures are part of that escalation in the economic warfare, the direct measure to try to suffocate us financial and economically,' he stressed.