U.S. and Cuba have adopted up to now 22 instruments since December 17th of 2014, when the process for normalizing their relations started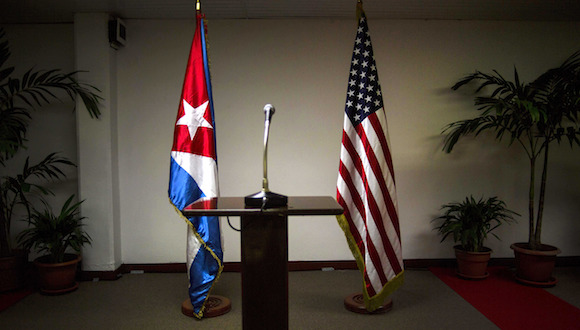 On that day, presidents Raúl Castro and Barack Obama, who held the post at the White House until last January 20th, announced their decisions to carry out that goal and initiated a change, which is still insufficient for many, of Washington's policy against Cuba.
Such tools mentioned above include agreements, memoranda of understanding, arrangements and treaties on plant and animal health, migration, safety for maritime navigation, search and rescue of people, drug trafficking struggle and regular flights.
The initiatives also address direct mail, agriculture, health, meteorology, seismology, land and marine protected areas, and the bilateral cooperation of the national parks of La Zienaga de Zapata and the Everglades.
Likewise, both governments signed a treaty on the delimitation of the Continental Platform on the Eastern Polygon of the Gulf of Mexico beyond 200 nautical miles.
As stated by the official sources, the last instrument was signed on January 19th, a day before the Inaguration of the Republican Donald Trump administration.
During this period, both nations held over 50 technical meetings and cooperation actions on cybersecurity and the struggle against drug and human trafficking, terrorism and immigration fraud.
They also tackled down maritime and aviation safety, environmental protection, legal assistance in criminal matters, and money laundering.
On the flipside, more than 20 meetings related to implementation and law enforcement, economy, telecommunications, human rights, mutual compensation, and disarmament and non-proliferation of arms were also conducted.
Shortly before the end of his term, Barack Obama, repealed dry-foot, wet-foot policy and the parole program for Cuban doctors, representing insecure immigration to U.S. territory.
The United States excluded Cuba from the list of terrorism-sponsoring states, and both countries reestablished diplomatic relations and reopened the embassies in their respective capitals.
Presidents Raúl Castro and Barack Obama met and spoke three times, most recently when the Democratic politician officially visited Havana in March 2016.
However, as stated by Cuba, the persistence of the US blockade against Cuba, an ongoing policy for over half a century, continues to be the main obstacle for normalizing bilateral relations.
Even though Obama issued several measures to modify the implementation of the economic blockade, he did not use all his prerogatives and during his 2-term administrations he imposed 51 billion-dollar fines on several financial institutions operating at some point with Cuba.