Cuba will never bow to the pressures and threats of the USA, confirmed today thousands of Cubans who marched through the mythical Plaza, José Martí, to celebrate the 58th anniversary of the Triumph of the Revolution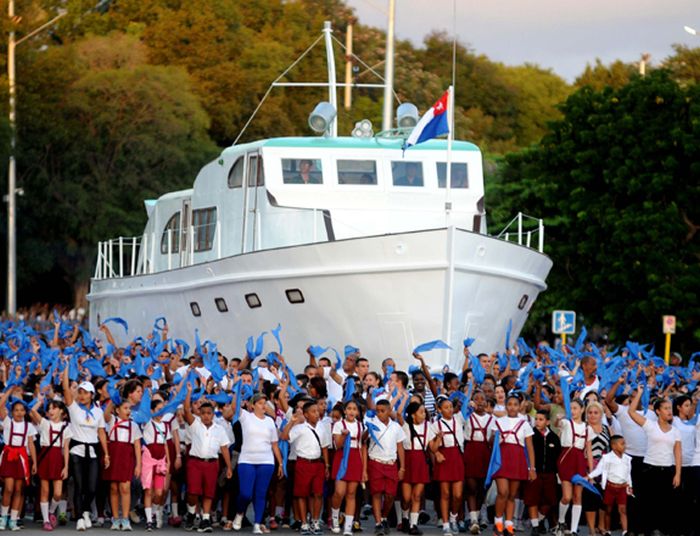 Cuba President Raul Castro presided over the military and civil parade which was also dedicated to commemorate the 60th anniversary of the arrival in Cuba of the Granma yacht on December 2nd, 1956.
The ceremony was opened with the firing of 21 gun salute and the national anthem of Cuba. The march started with a representation of the most important moments of the founding and consolidation of the Cuban nation, including a group that paid homage to the mambi fighters, symbol of the struggle against the Spanish colonialism.
It also included a copy of the Granma yacht accompanied by primary school students, a group representing the guerrilla of the Sierra Maestra that was commanded by Fidel Castro, of the Giron fighters (1961), the brigades of the educational campaign for literacy (1961) and internationalist fighters.
This event was also dedicated to the 60th anniversary of the uprising in the city of Santiago de Cuba (southeast), the anniversary of the Revolutionary Armed Forces (FAR), the historic leader of the Cuban Revolution Fidel Castro, as well as the youth.
In a second part, the parade was joined by members of FAR, the Ministry of the Interior and the Militias of Territorial Troops, including military educational institutions, representatives of the Western, Central and Eastern armies, the Division of Tanks, the Special Troops, the Revolutionary War Navy and the Youth Army of Labor.
Finally, the third section was represented by the people protecting the country, symbolizing the principle known as the War of the Whole People, which is made up of the people's defense councils, the student militias and the Production and Defense Brigades.
The parade held today was scheduled for December 2nd, but it was postponed due to the death of Fidel Castro on November 25th and the national mourning decree.