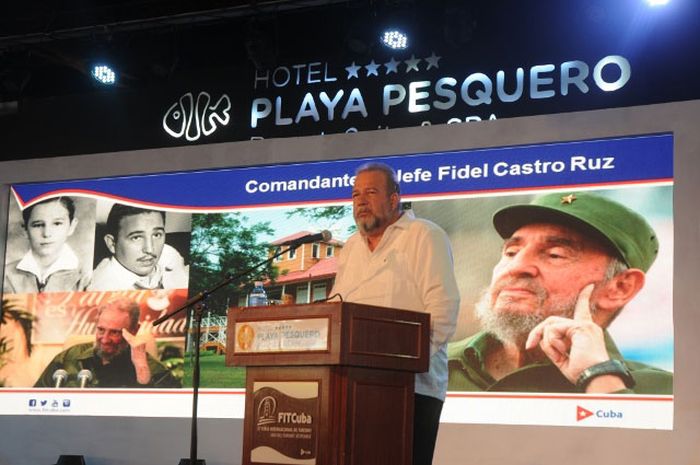 The announcement was made by Manuel Marrero, Cuban minister of tourism during the closing ceremony of FITCuba 2017, in Holguín
The 38th International Tourism Fair FITCuba 2018 will be dedicated to the United Kingdom, as guest of honor, official sources informed here.
The Cuban Minister of Tourism, Manuel Marrero, added that next year's edition will have as venue Cayo Santa Maria, in the central province of Villa Clara, in the modality of Sun and Beach.
Marrero resumed the activities of FITCuba 2017, held in this Eastern territory of Holguin.
He indicated that two thousands 600 professionals of 41 countries participated, among them tour operators, travel agencies, representatives of airlines, executives and traders, besides 170 journalists from the main emission markets to Cuba.
The United Kingdom, he explained, accumulates growths of 25 percent in tourist arrivals to the archipelago and it is a market showing fidelity to this leisure destination.
He added that during the fair, contacts and business were expanded, and participants recognized the bounties of the island for the travel industry.
The Minister also highlighted the cultural presentations in this venue, as an exhibition organized by Cuban artist, Kcho, that grouped 27 painters from 13 countries.
He congratulated authorities and the people of Holguin, as well as territories that were part of the fair, such as Gibara, that opened the program of visits of the delegates and appeared as a circuits destination.
The ceremony also highlighted the achievements of the General Director of Marketing of the Ministry of Tourism, Maria del Carmen Orellana, who ended her work and during her mandate, this country received four million visitors last year.
Marrero recalled that during these days the encouragement of the leader of the Cuban Revolution, Fidel Castro (recently deceased) was present and the incentive of this nation's president Raul Castro, who sjpports all the tourism development projects.
The closing ceremony was held in the beach of Hotel Brisas Guardalavaca of the resort of the same name until the early hours of today with the performance of Alexander Abreu's orchestra Habana de Primera.
Today the halls of Hotel Playa Pesquero will welcome the public, that will conclude the venue.
Many of the foreign participants and journalists will continue for the following five days a tour of familiarization in Santiago de Cuba and Baracoa in the easternmost region of Cuba.