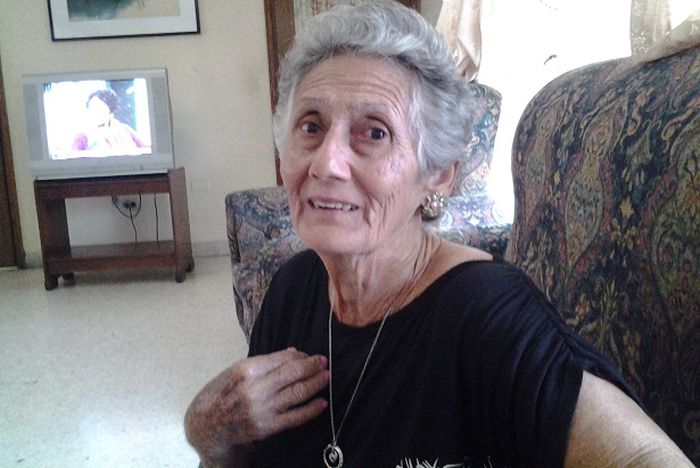 Her joy promised an uneventful night. "Do you know who's speaking?", she said enthusiastically when she called me at approximately 7:00 pm. It was Neisa Fernández Rojas, the only person who owns a Diploma of Honor in her name signed by Manuel Ascunce Domenech giving account of the greater task he managed to bring to an end.
Neisa, Ascunce and Fidel: From Darkness into Light
The young man, who was barely 16 years old, had been murdered by counterrevolutionary gangs in Limones Cantero, Trinidad, on November 26, 1961. But he was not just a teacher. He was also a good person who made it possible for Neisa to celebrate her 15th birthday with an cake brought from Havana by Evelia Domenech, and who, having known about the crime committed against the voluntary teacher Conrado Benítez, admitted that he was afraid of death.
That night I had a long talk with her, which I recorded. She welcomed me at the Hotel del Partido (Party's Hotel), where she was staying at. She was happy to meet me 15 years after the interview that served as basis for a reportage produced in Escambray. We talked about Manolito —as Manuel Ascunce was popularly known—, and about the man who, according to Neisa, took her away from ignorance with his emancipatory strategy. "If it hadn't been for Fidel I would not have learned to read or write, because that teacher I had was sent by him", she would say with her face bathed in tears the next morning.
A special ceremony had been scheduled in Limones Cantero to commemorate the 55th anniversary of Manuel Ascunce's murder. Neisa had been invited to attend the act, and she came accompanied with her grandchildren, her husband and her daughter. After listening to some of her memories concerning the many texts she's read about Manuel Ascunce, I left. It was already after ten when Yumar, the Party official, took me home. And it was him the first person I talked to after the nightmare. The ceremony would be held, he said with sadness on the other side of the phone, so I got ready, like the rest of the press team. On the way to Limones Cantero, we were informed that plans had been changed. My instinct told me to meet Neisa, her family would be the first, after the devastating event that shook Cuba, to offer its testimony to Escambray.
I invent the words to address her while she gathers her strength, trying to correspond. I only hear her saying: "Very bad". This is probably the last place where she would have wanted to be at the moment of receiving the third biggest blow of her life. The first and the second: her father and Manuel. But she came here by chance and there is no other day of endless anguish, because it is the same date for two sufferings united by the same cause.
Then she takes me to the bedroom and tells me another story with her face petrified with stupor: "I had the first toy ever thanks to Fidel. When I was 13 years old, I was once called with the rest of the children living in Limones Cantero, and were distributed toys. Shortly after a plane passed by delivering clothes". "On November 5, 1961, I received the diploma from him there in Cndado", she added.
"Manuel was a very serious, respectful, and polite person.He was like a brother for us and like a son for my parents.Whenever he went out for a meeting in the area, he was accompanied by my little brothers so that he wouldn't be alone. When he left for Pedro Lantigua's home, he visited us every day. My dad once scolded him for walking around by himself. He was killed on a Sunday. That very day he had visited my house in the morning". Then she keeps quiet to allude to the one who is beyond her and beyond her hero teacher.
"This has been for years a sad date in my family. Now one more reason is added. You can see what kind of tragedy the day has brought us". Then, as if she were recriminating herself, Neisa goes back to say the same words, but this time her debt has a doble meaning: "I really wanted to study. It would have been best to get in good with him, but my mom was all the time telling me about helping in the house".