Neisa Fernández Rojas is the only Cuban who owns a diploma for having been taught to read and write by Manuel Ascunce Domenech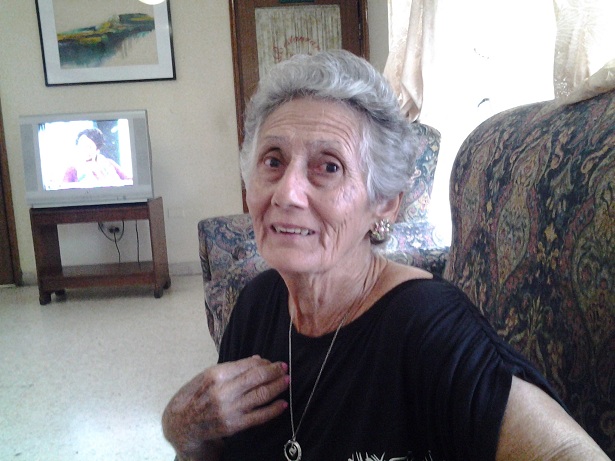 Neisa Fernández Rojas, the only person whose name appeared on a Diploma of Honor signed by Manuel Ascunce Domenech for having been taught to read and write by him, was in Sancti Spiritus last November 25th. She was supposed to attend the national ceremony on occasion of the 55th anniversary of the murder of the 16-year-old Cuban teacher, when she was only 15.
She was very happy because she had just received a photocopy of the diploma, which got lost after she donated it to the House Museum of Limones Cantero, in Trinidad. She spoke about Fidel, about the day in which he ordered to "bomb" toys on the area where she lived. "It was the first time I saw a real doll and I was almost 13 years old", she remembered.
Neisa regrets not having studied further. When she decided to do so, sometime after Manuel Ascunce's murder, her pregnant mother said she needed help. She gave birth twice, and since Neisa was her eldest daughter, she was supposed to deal with the housework. "I have been always indebted to Manuel, because he did a lot to teach me to read and write", she says while holding a book in her hands. It is one of the few books she has read several times which contain passages of the life of her flesh-and-blood idol. She searches for every newspaper that tells about the events of that day when Manolito, as the young teacher was known, last went to her house.
"He always visited us, he was like family", she said. Tomorrow, she will finally return to the place she has not visited for almost 20 years. Not, at least, on the lacerating date of November 26. This time she will be accompanied by her husband, who participated in the Fight Against Bandits and had to raise his brothers when his father passed away. Her daughter and her two eldest grandsons will also accompany her. After recording her words, I asked her to go to bed early, given her nervousness and the emotions that she will experience the next day. I was far from imagining that worse emotions were yet to come for her, and for all Cubans.
It was said that the Limones Cantero ceremony would be held in spite of the news that since midnight had everyone on edge. I first heard about it after five in the morning. And sometime later, the announcement was made: the ceremony had been canceled.
"What can I tell you? The Literacy Campaign was his idea. Without Fidel, the Neisa of the history would be an illiterate woman", she whispers when I find her at the hotel where she's staying at, feeling a pain similar to what she felt that November 26th, 55 years ago. Coincidences brought her here on the saddest day for her since then.
The sorrow of the previous night seemed to have multiplied. Her eyes are two wet basins that look without seeing. I decide that the testimony of this woman should be kept for later. From now on there will be no other issue in the Cuban press than the death of the giant man, the one who put her in front of me, who placed Ascunce in her way and thousands of volunteer teachers in the way of the poorest Cubans, to be instructed and, therefore, free.
She leaves for her home in Santa Clara, without paying the visit to Manolo and to Pedro Lantigua. She goes with her double mourning heart, her wound open, with the only gain that fate united for the second time the two men who did most for her in the mission that took her out of the darkness and brought her into the light.