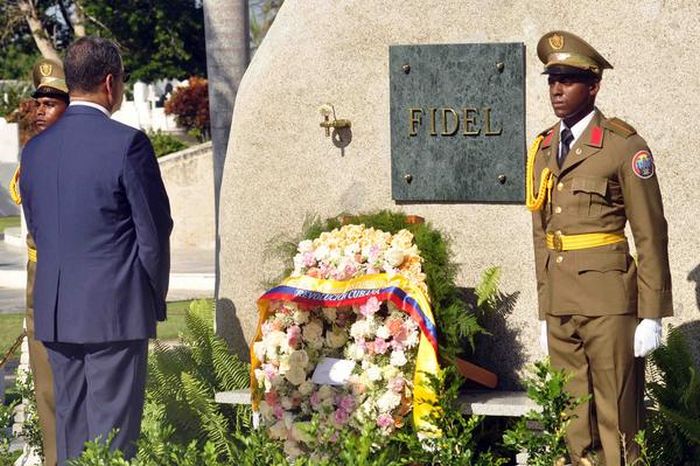 The Ecuadorian President paid tribute to Cuban National Hero Jose Marti and to Cuban Revolution historical leader Fidel Castro
Residents of the neighborhood Abel Santamaria in Santiago de Cuba expressed their gratitude to Ecuador's outgoing President Rafael Correa for the support given by his government to rebuild and construct homes that were destroyed when hurricane Sandy lashed Santiago de Cuba in October 2012.
Correa started an official visit to Cuba, beginning in Santiago de Cuba, and will be in Havana Friday for talks with his Cuban counterpart Raul Castro and to receive the Jose Marti National Order —the highest award granted by the Council of State to foreign dignataries for their contribution to peace.
In his first activity in Santiago, the Ecuadorian President paid tribute at Santa Ifigenia cemetery to Cuban National Hero Jose Marti and Cuban Revolution historical leader Fidel Castro, to whom Correa regarded as 'an example for all Latin America and the planet.'
Correa said that Martí 'showed the way with his illustrious thought, going beyond his time'.
He voiced his gratitude, also, to the Cuban people and government for their support.
Correa was declared Illustrious Son of the City of Santiago de Cuba at the City Hall, seat of the provincial Parliament. He was scheduled to visit the 26 de Julio School City (former Moncada Garrison) and other activities.
Correa will pass on the Presidency of Ecuador to Lenín Moreno, the president-elect for the ruling PAIS Alliance on May 24.