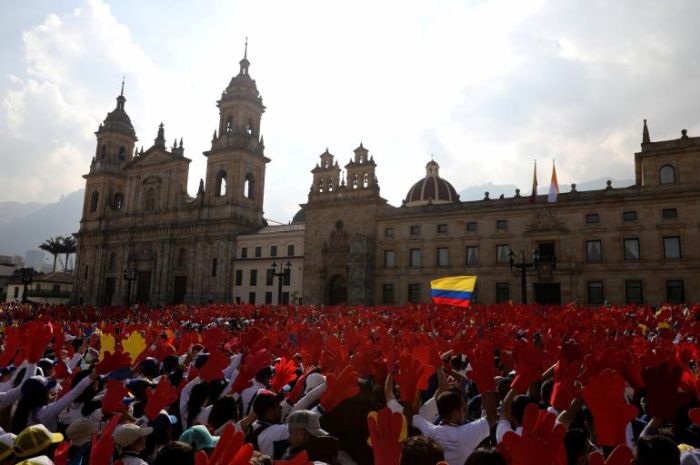 The words of the Holy Father are expected to be a strong encouragement amid the Colombian reality
Pope Francis will officiate today his first camp mass at Bogota's Simon Bolivar Park, in which about one million parishioners eager for his message of peace are expected to attend.
More than 780,000 tickets have been distributed for the mass, confirmed Bishop Luis Manuel Ali Herrera, auxiliary bishop of Bogota, in charge of organizing the papal visit in this city.
According to the priest's opinion, the words by the Holy Father, scheduled for 16:30 local time, will be a strong encouragement amid the Colombian reality.
'I think we are prepared for a message, especially at this moment in which the country is experiencing a particular national situation, that opens us to reconciliation and hope as Colombians,' he said.
His Holiness will be also received by the President of the country, Juan Manuel Santos, at the Presidential Palace, home of the Colombian presidency, where he will be honored by members of the diplomatic staff, political and religious authorities and many representatives of the society.
After receiving him yesterday upon his arrival in Bogota, Santos stressed that Pope Francis is in the country to push the Colombians to take the first step towards reconciliation.
At the end of his apostolic visit to this capital, the head of State of the Vatican City will continue his pastoral days in the cities of Villavicencio, Medellin and Cartagena de Indias, last point of his stay in this South American land and from where he will leave for Rome on Sunday, September 10.
Argentine Jorge Mario Bergoglio is the third pope to visit Colombia in half a century, following Paul VI in 1968 and John Paul II in 1986.