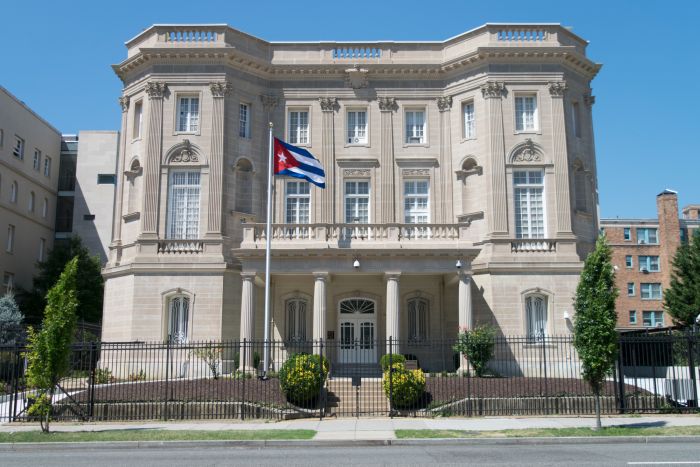 According to a senior federal official, the U.S. measure was based on the health incidents reported by U.S. embassy officials in Havana
The Trump administration on Tuesday has ordered the expulsion of 15 diplomats from Cuba's embassy in Washington, a week after the Caribbean island's government urged Washington not to make any hasty decisions.
According to a senior federal official, the U.S. measure was based on the health incidents reported by U.S. embassy officials in Havana, but stressed that it does not mean a change of policy toward the Caribbean country or assignment of responsibilities for those acts.
'We are holding diplomatic relations,' the source added, according to which this step was taken because, for the U.S. government, Cuba has failed to do enough to protect U.S. personnel in the Caribbean island.
Such a decision is also seeking, he added, to equal the capacity of both embassies, after the United States last Friday announced the decision to pare its staff in Havana down to a skeletal group of just 27 people who can carry out emergency services.
The Trump administration also suspended the granting of visas for immigrants and non-immigrants.
The Trump administration imposed last week's and today's reprisals despite the U.S. State Department's admitting investigators have not been able to determine who is responsible or what caused the alleged health events, which Washington describes as 'attacks' without any conclusions about it.
The federal official, who said that there are 21 U.S. diplomats who had health problems, reiterated today that the reasons for those events are still unknown. According to the official source, Cuba informed him that it will continue probing on this issue, 'and we will continue to cooperate with them in that effort'.
We will also continue with our own investigation, added the State Department representative, who stressed that such decisions do not represent a determination of guilt.
Following the announcement last Friday, the United States' Director General of the Cuban Foreign Ministry, Josefina Vidal, described Trump's decision as precipitous and also said that it will affect the bilateral relations between both nations, in particular, the realization of several agreements on issues of mutual interest.
Vidal ratified that the Cuban government is not liable for these events and it complies responsibly with 1961 Vienna Convention concerning the protection of the personal safety of diplomats and their relatives.
Shortly before, during a meeting with Tillerson on September 26 in this capital, the Cuban Foreign Minister, Bruno Rodriguez, urged him not to politicize a matter of this nature because no rushed decisions with no evidence and conclusive research results should be made.
Following Trump's decisions on this issue, several voices described the U.S. State Department's measures as excessive and alerted how dangerous it would be for the normalization process of bilateral relations.
Senators and congressmen, business and transport groups, ex-diplomats and analysts have considered Donald Trump's stance as unwise.
Several sources stated that such decisions only favor figures such as Cuban-American Senator Marco Rubio, a staunch opponent of both nations' rapprochement, who on Friday called the actions of his government 'weak and unacceptable' and called for the expulsion of Cuban diplomats from Washington.