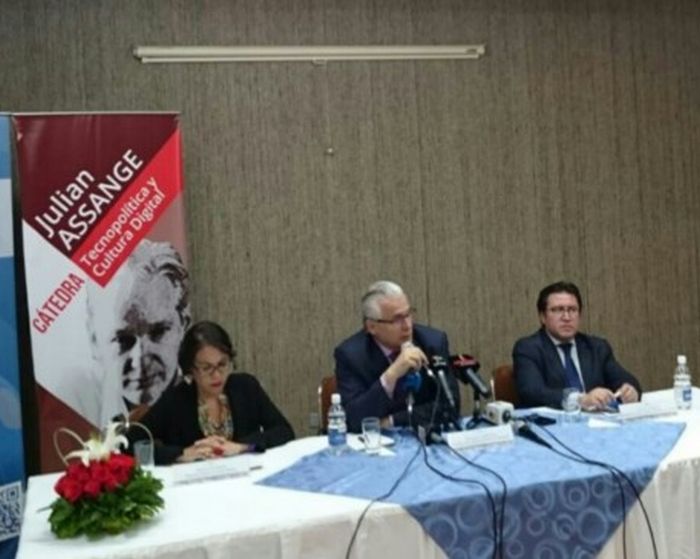 It was announced that Assange's case will be taken to the Inter-American Court of Human Rights and the United Nation Refugee Agency
Ecuador ratified that it will maintain the protection and watch over the physical and psychological integrity of the cyber-activist Julian Assange, who remains today under asylum in the embassy of Quito in London, although there is no criminal process against him.
The stance of the national administration was confirmed by Maria Fernanda Espinosa, head of Foreign Relations and Human Mobility, who said that this is the role of host countries of people in the condition of the Australian founder of the WikiLeaks web portal.
'There are rules that both parties must meet, in the case of the asylum seeker, he must be careful to not to interfere in the internal affairs of the host country and I think that is clear to him, and on our side the guarantee to continue protecting his rights,' she said.
In this respect, she expressed her hope that this relationship of communication and openness will continue.
On the other hand, she said that contacts have been made with the United Kingdom, at the request of the president, Lenin Moreno, which includes dialogues and a working meeting with the UK ambassador in Quito.
At the recent 47th General Assembly of the Organization of American States (OAS) held in Mexico this week, there were also exchanges with representatives of London, who is an observer within the organization.
'The idea, the will, and the decision are to arrive at a solution that simply benefits and guarantees the rights of the person under asylum, who in this case is Julian Assange. There is the best disposition and we are looking for the most suitable ways,' she emphasized.
She also said that there are permanent and direct channels of communication with the Australian journalist, through the Foreign Ministry in the United Kingdom.
Assange remains under asylum at the Ecuadorian embassy in London since 2012, when he applied for that status in the face of fears that his life might be jeopardized by his political persecution.
For the lawyers' 45-year-old Australian, the case against him was only a pretext to extradite him to the United States where he can be tried and sentenced to life imprisonment for the thousands of secret and classified documents of the government of that country that his digital portal disclosed and still makes public.
Although there is no pending legal matter with Assange in the United Kingdom, the authorities prohibit him from leaving the Foreign Ministry, which constitutes a violation of his rights, which is why his defense ratified yesterday that they will bring the case before the Inter-American Court of Human Rights and the United Nation Refugee Agency.