The president of the National Assembly of People's Power, Esteban Lazo, received Serbian President Aleksandar Vučić on Thursday at the host building of that institution.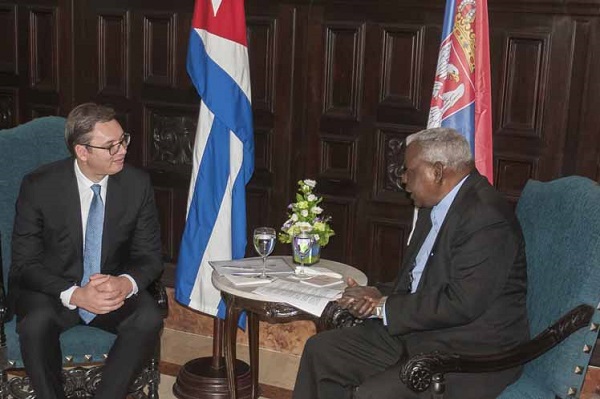 The Serbian President is making an official visit to Cuba.
Lazo thanked the visitor for the meeting and referred to the excellent state of diplomatic relations between the two countries, which will arrive next year to its 75th anniversary in an uninterrupted manner.
'On behalf of the Cuban deputies and people, I greet you with all my heart. We consider Serbia a friendly nation, which has always offered its support in our battle against the unfair economic, financial and commercial blockade imposed by the government of the United States,' said the head of the Cuban Parliament.
He reiterated Cuba's intention to promote bilateral relations, both in the commercial and economic fields, and at the parliamentary level.
We intend to develop agreements in the political, logistical, scientific and cultural sectors between the two States.
'It is up to us to work together in all those areas in which we have common interests, and President Vučić 's visit represents a great step forward in that direction,' said Lazo.
The Cuban parliamentarian leader also referred to the opportunities offered by the Mariel Special Development Zone (located in the western province of Artemisa) and the new Portfolio of Opportunities for Foreign Investment in Cuba for the period 2017-2018.
Finally, he reiterated the support of the Caribbean nation to the territorial integrity of Serbia and wished success in the negotiations of that territory to enter the European Union.
For his part, Vučić thanked the reception to his delegation and announced his intention to strengthen trade agreements with several Cuban ministries, including the Ministry of Agriculture.
As part of his official visit, the Serbian President will visit an exhibition about the historical leader of the Cuban Revolution, Fidel Castro Ruz, at the Capital International Press Center and will offer a keynote address at the Aula Magna of the University of Havana.
The program also includes official talks with Cuban President Raúl Castro.