Nine Cuban baseball players have signed to play with Can-Am and Intercounty baseball teams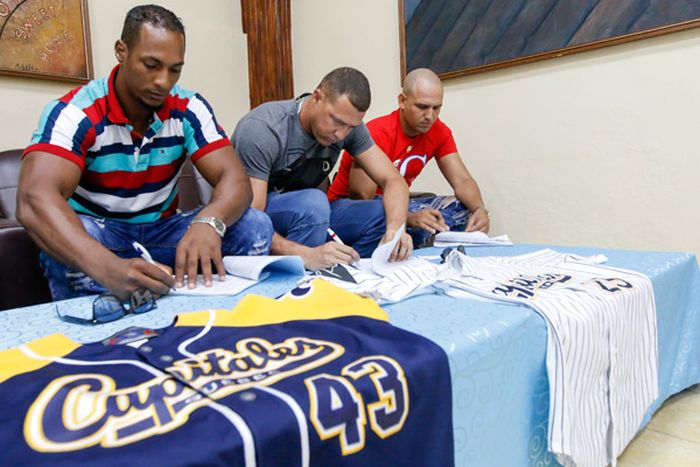 A total of 13 Cuban ballplayers have been placed in foreign baseball leagues, following the recent signing of nine players with Can-Am and Intercounty baseball teams.
The official signing took place at the Latinoamericano Ballpark in Havana, with the presence of Higinio Velez, president of the Cuban Baseball Federation, in addition to the national baseball commissioner Yosvani Aragon.
In this season, the Quebec Capitals will include in its lineup Cuban infielders Yurisbel Gracial and Yordan Manduley, as well as the RHP Lazaro Blanco and outfielder Julio Pablo Martinez.
The infielder Yurisbel Gracial stated that this opportunity will be another great experience for his sports career, hoping to achieve better results than in previous season.
The outfielder Julio Pablo Martinez was absent today in the contract signing due to some delays in the visa process, the Quebec Capital's President Michel Laplante told the press.
Likewise, the Trois-Rivieres Les Aigles (Can-Am) team will have the shortstop Alexander Ayala and RHP Miguel Lahera on its roster, this latter will play as a setup pitcher, as required by the team, Manager TJ Stanton stressed.
Regarding Alexander Ayala, Mr. TJ Stanton stated that his offensive and experience as a shortstop in the Cuban Tournament will be quite useful for the Canadian team which hopes to reach the playoffs.
Meanwhile, RHP Miguel Lahera showed his willingness to take on any role on the mound, either as starting pitcher (SP) or middle reliever, although he made it very clear that he´d rather play as a closer pitcher (CP).