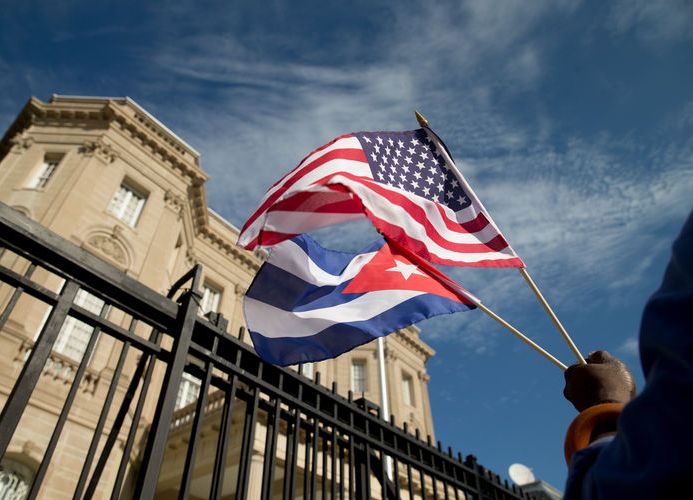 Cuba considers a positive step forward in improving relations with the USA an agreement announced yesterday by President Barack Obama to secure regular, safe and orderly migration between the two countries.
Obama's declaration does away with the so-called 'wet foot, dry foot' policy that guaranteed any Cuban arriving in US territory, no matter how, to becoming a legal resident.
Cuba, USA Issue Joint Statement on Migratory Policy
Statement by the US President on Cuban Immigration Policy
US Government Ends "Wet Foot, Dry Foot" Policy against Cuba
The executive order states that Cubans trying to get illegally into the USA and does not qualify for human aid will be subject to be returned according to the US laws.
By giving this step —the statement stresses— we are treating Cuban immigrants in the same manner that We deal with immigrants from other countries.
The document adds that the Cuban Government has agreed to accept the return of Cuban nationals (in US soil) who has been ordered to return, just like it has accepted to receive immigrants intercepted at sea.
In a statement released last night the Cuban Government highlights that this agreement does away with the policy commonly known as 'wet foot, dry foot' and the parole admission program for Cuban health professionals that Washington applied in third nations to encourage them to illegally leave for the USA.
The agreement was reached after a year of negotiations based on mutual respect and the political will to strengthen bilateral relations and pave the way for new understandings on diverse issues of common interest, the Cuban statement points out.
It should contribute -it adds- to normalizing migration relations which have been shadowed by aggressive policies of successive US administrations that encouraged violence, irregular migration and human trafficking, causing the death of many innocent people.
The 'wet foot, dry foot' policy was until now an encouragement to irregular migration, immigrant trafficking and irregular entries to the USA from third countries.
By automatically receiving them, the US authorities were granting them a preferential and unique treatment no citizen from other countries get, therefore it was also an incitement to illegal exits.