Cuba and Venezuela signed the final act of the 18th Meeting of the Intergovernmental Commission of the Comprehensive Cooperation Agreement (CICIC) between both countries, a process for redimensioning the collaboration.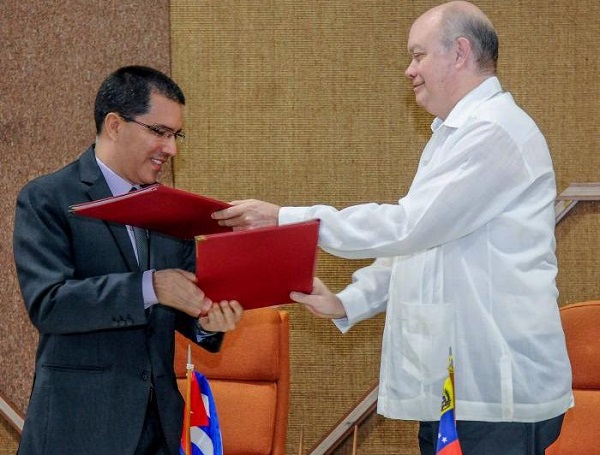 The text describes the design of the Annual Cooperation Plan for 2018 that includes 27 projects contained in nine programs in the areas of Health Services, Supply of Medicines, Electrical Support, Human Talent Training, Sports and Cultural Promotion, Agrifood Development, Services of support to the Agreement, and of Economic Union and Joint Ventures.
The signature of the document was in charge of the Ministers of Foreign Trade and Foreign Investment (Mincex), Rodrigo Marmierca, and the Popular Power Minister for Foreign Affairs of Venezuela, Jorge Arreaza.
Both delegations acknowledged that this process responds to what was agreed in the XVII CICIC, which allowed raising the quality and efficiency in the execution of the Agreement and led to the incorporation of more than 13 thousand Venezuelans into the social missions in the health sector.
During the ceremony, Marmierca celebrated the birth of the Bolivarian Alliance for the Peoples of Our America (ALBA), whose seed was the Cicic between Cuba and Venezuela sealed by the historical leaders of both nations, Fidel Castro and Hugo Chavez in 2000.
This consisted of a new form of cooperation in which solidarity, brotherhood and complementarity prevail, as well as the total lack of interest of the parties to collaborate and favor the nations.
Malmierca praised the recent triumphs of the Bolivarian Revolution in its fight against aggressions, which the Venezuelan people defeated in a forceful way.
He also confirmed that Cuba will remain with Venezuela as it has been for 18 years of uninterrupted cooperation.
For his part, Arreaza stressed that the cooperation program for 2018 is more efficient and focused on priorities, and recalled that it is a sample of the tens of thousands of Venezuelans trained in health, sports, culture, agri-food.
In addition to the above, he expressed the gratitude of the Venezuelan people with the Cuban Revolution and its leaders, as well as the collaborators for their sacrifice and capacity to deliver for their country's formation.
The parties agreed to hold the XIX meeting of the CICIC in Venezuela in the second semester of 2018.