The Fifth Summit of the Community of Latin American and Caribbean States (CELAC) concludes today in this eastern city of Dominican Republic, with the adoption of a political declaration and other special pronouncements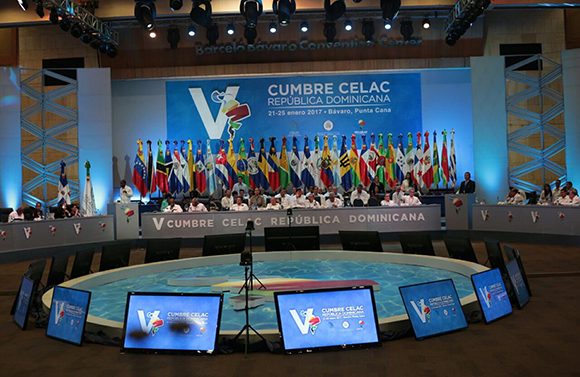 After the analysis by coordinators and foreign ministers in their respective meetings, the presidents, prime ministers and heads of delegations will ratify the documents, including a plan of action.
Among the topics present in the texts are
the need to end the US economic, commercial and financial blockade against Cuba
, as well as other issues related to food security, migration and development, and the world drug problem.
The themes of nuclear disarmament, gender, the advancement of women, financing for development, the return to Cuba of the territory occupied by the United States naval base in Guantanamo and indigenous languages ​​are also outstanding.
The Summit began yesterday with a minute of silence in homage to the leader of the Cuban Revolution, Fidel Castro.
'Fidel Castro was one of the main promoters of the Community and a firm believer throughout his life in the dream of a region united in the path of progress,' said Dominican President Danilo Medina at the inauguration of the great event.
On the other hand, the president stressed the potentialities of the political consultation mechanism integrated by all the nations of the American continent, except the United States and Canada.
He also mentioned the possibilities of the organization to protect people from the effects of climate change and natural disasters, promote food security, combat inequality and promote education.
'It is here, in short; in this alliance of peoples, in this community of brothers, where we must find the ideas, paths, actions and political will to realize the historical destiny of Latin America and the Caribbean,' he stressed.
The meeting is attended by presidents of countries such as Cuba, Raúl Castro; Ecuador; Rafael Correa; Bolivia, Evo Morales, and El Salvador, Salvador Sánchez Cerén, to whom the Dominican Republic will hand over on Wednesday the pro tempore presidency of the organization.
CELAC had its first presidential meeting in Chile in 2013, followed by Cuba (2014), Costa Rica (2015) and Ecuador (2016).