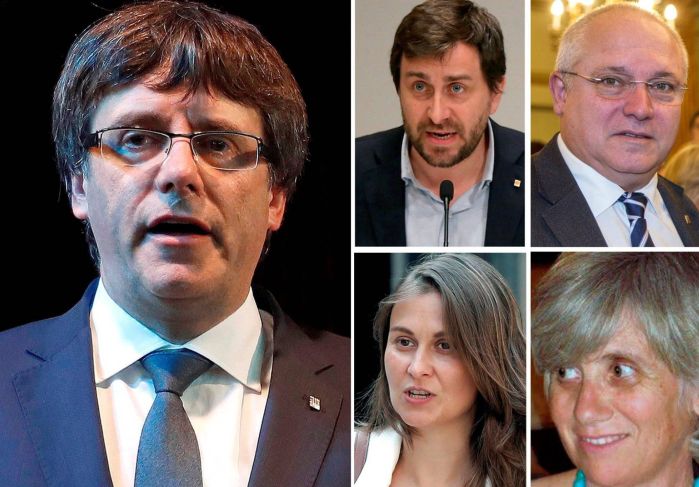 Puigdemont intends to coordinate from Brussels the actions of his ousted government, which he considers legitimate
The former president of the Spanish region of Catalonia, Carles Puigdemont, announced today the implementation of a "stable structure" to coordinate from Brussels the actions of his ousted government, which he considers legitimate.
In a letter released Thursday by various media, Puigdemont, who is in Belgium since October 30 along with four of his former advisers (ministers), did not specify what that structure would consist of.
However, he referred to the activation of a series of initiatives to denounce, at international level, what he describes as the politicization of Spanish justice, its lack of impartiality and willingness to pursue ideas.
The ceased secessionist leader emphasized in his letter, entitled Letter from Belgium, that as part of this 'road map' will reaffirm the strong commitment of the Catalan people for the right to self-determination, dialogue and an agreed solution.
He denounced 'the democratic decadence of the Spanish State, as well as the abuses of a European Union that has tolerated, and even protected in a shameful way, the Spanish repressive actions'.
Puigdemont referred to the intervention of Catalonia by the government of Mariano Rajoy, who, protected by article 155 of the Constitution, dismissed the regional leader, dissolved his parliament and called early elections for December 21.
After that unilateral declaration of independence, the General Prosecutor of the State filed a complaint against all the members of the deposed Catalan executive and the highest authorities of the autonomous chamber, which it accuses of rebellion, sedition and embezzlement.
That demand was admitted by the National High Court, which a week ago sent eight former advisers of the Generalitat (elf -government of Catalonia) to provisional prison without bail for allegedly commit those crimes in relation to the separatist process.
The court itself issued an arrest warrant against Puigdemont and collaborators who accompany him in Brussels, who are awaiting the decision of the Belgian justice on a possible extradition to Spain to be tried on the same charges.