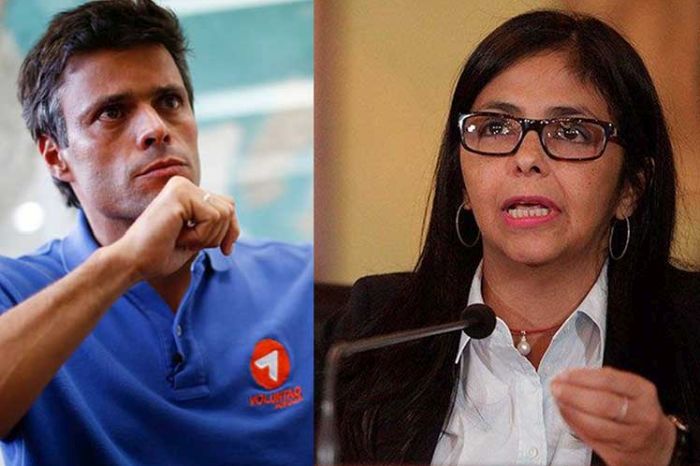 Leopoldo Lopez, former mayor of Chacao and leader of Voluntad Popular, is currently kept in jail for having instigated violent actions
Foreign Minister Delcy Rodriguez has confirmed that Bolivarian authorities have begun a dialogue with right-wing opposition leader Leopoldo Lopez, who is serving a 13-year prison term for his responsibility in the violent events occurred here in 2014.
The Venezuelan diplomatic head said yesterday night that there is evidence of this process of talks with the national coordinator of the Voluntad Popular rightwing party, one of the groups leading the violent demonstrations that have hit Venezuela since early April.
During a meeting held in Fuerte Tiuna, broadcast by the state-owned Venezolana de Television, the foreign minister said although Lopez's wife, Lilian Tintori, denied such a meeting, 'a dialogue with Leopoldo Lopez has begun and we are going to show on television.'
The mayor of the Libertador municipality in Caracas, Jorge Rodriguez, also referred to the issue on Monday, June 5, assuring that Lopez was willing to negotiate his release and accept the benefit of house arrest instead of jail; however, his wife was the one who prevented this was completed.
The socialist leader stressed that 'he has the evidence,' which supports what he said and he is willing to present them to the country in case of being denied. Lilian Tintori, wife of Leopoldo Lopez, said on Monday that her husband was not willing to negotiate his release, although he admitted that the issue of the house arrest measure was one of the items discussed.
The Caracas mayor said Lopez 'was very willing during the meeting to propose, even to sign documents to stop violence.'
Leopoldo Lopez, former mayor of Chacao and leader of Voluntad Popular, is serving a prison sentence for being the main instigator of the coup plot called La Salida, in 2014, which killed about 43 people.