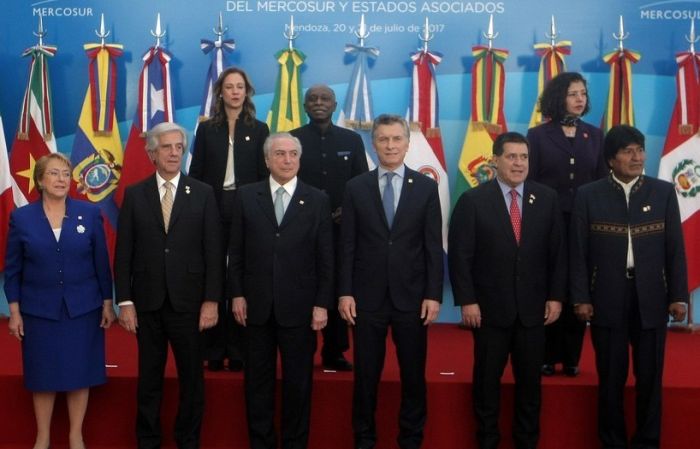 The summit is being attended by six presidents, seven foreign ministers and delegates from 11 nations

Under strict security measures, the city of Mendoza welcomes six presidents, seven foreign ministers and delegates from 11 nations to attend the six-monthly MERCOSUR Summit.
The meeting will be held at the Intercontinental Hotel and attended by host President Mauricio Macri and his counterparts Michel Termer (Brazil), Horacio Cartes (Paraguay), Tabare Vazquez (Uruguay), Evo Morales (Bolivia) and Michelle Bachelet (Chile).
Focused on strengthening MERCOSUR, Venezuela situation will be the most important issue to debate. This nation is a full member of this integration bloc which in could not utterly finish its mandate December 2016 and was suspended for breaching the Accession Protocol .
The Venezuelan Foreign Ministry issued a communique expressing its decision not to attend MERCOSUR Summit on the grounds that this meeting lacks legality and violates basic rules of International Law.
The sovereign decision of Caracas was adopted for lacking these meetings of total legality, openly violating the MERCOSUR regulations, at a time when the governments of Argentina, Brazil, Paraguay and Uruguay have been sued by Venezuela based on the Protocol of Olives for the Dispute Settlement, according to the release.
In line with MERCOSUR meeting, People's Summit was held yesterday in Mendoza, which has been conducting for over a decade and had to be self-sustaining this year due to the lack of host country's support.
Delegates prepared a final document to be handed over to MERCOSUR presidents in which they expressed their full support for Venezuela and the Bolivarian Revolution.
The leaders of the bloc will deal with several important issues as a possible free trade agreement with the European Union.
According to the presidential agenda, Macri is planning to meet with the Uruguayan leader, Tabare Vazquez, and then with his Bolivian counterpart, Evo Morales, before the meeting.
At this six-monthly summit, Argentina will hand over the presidency pro tempore to Brazil.